PALISADES COMMUNITY CENTER NEWS: March 2017
Mar 2017 - Issue 236
An Afternoon with Al Perlmutter- A PBS Retrospective
It's almost impossible to imagine life without PBS. Producer, Executive Director, and winner of 6 Emmys and 5 Ace Awards, Al helped to shape what PBS is today, beginning with The Great American Dream Machine and Bill Moyer's Power or the Myth, just to name two of his lifetime achievements. Join us as he shares footage and remembrances of his work in the early stages of PBS. .
Sunday, April 30
4:00 pm
General Admission: Advance sale $12/At the door $15
PCC members, students and seniors $10
Refreshments served
ANNUAL EARTH DAY EVENTS
ReDuce- ReUse- ReCycle
PEOPLE to PEOPLE CLOTHING & FOOD DRIVE
We will collect spring & summer clothing for infants-adults and non-perishable food HI-TOR ANIMAL SHELTER Pet food, old towels, blankets and newspapers! Donation drop off April 15-24 between 10:00 am-6:00 pm ~
ANNUAL EARTH DAY FLEA MARKET
April 22 & 23 9:00 am-3:00 pm
Clean out your closets, rent a table and collect your profits OR Donate your quality items to us anytime April 15-21
To rent a table or further info, e-mail Eileen: ileenog@aol.com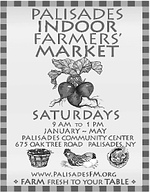 For the 9th year, we are happy to bring the Farmers' Market to you! If you haven't been yet, stop by!!!!
MARCH MUG SALE!
We'll have a wonderful collection of mugs hand-made and donated by potters of the Hudson Valley. 100% of the profits go towards our Kitchen/ ADA bathroom Renovation Project
JIM the KNIFE SHARPENER
is with us March 4 & April 1
Join Us!
BECOME A 2017 MEMBER OF THE PCC!
Your memberships and donations enable us to make critical repairs and renovations of this schoolhouse built in 1870 and to support our programing. We are still fundraising for our Kitchen Project/ADA Bathroom Project.
Please help us! Your donations can turn this wish into a reality!
PCC@palisadesny.com
Palisades Community Center:
www.Palisadescc.org
Palisades Farmers' Market:
www.Palisadesfm.org
To sign up for Palisades E-mail Alerts and Palisades Community Center news: PCC@Palisadesny.com
Palisades Community Center Board members:
Carol Baxter, President
Alice Buchanan, V. P.
C. Andrew Nelson,
Treasurer Carol Knudson,
Secretary Michele Balm
Keith Buterbaugh
Leo Keegan
Jeffrey Levine
Lynne Sandhaus
Honorary Board member: Virginia McCauley
Rental Coordinator: Eileen Larkin 359-6589 Ileenog@aol.com PCC Mailing Address: PO Box 222 Palisades, N.Y. 10964