Meet Our Staff
Mar 2017 - Issue 236
I would like to introduce you to the people who work diligently to get a relevant and interesting newsletter out to you four times a year. We are all volunteers. Some of us grew up in Palisades while others of us found our way here at one time or another. We come from diverse backgrounds but we all share a strong commitment to the well-being of our treasured community.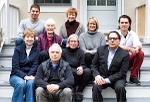 ALICE GERARD, 23 years on staff. Staff writer, editor and layout person of one issue a year and the newsletter's treasurer and ad manager. Alice, a former teacher and school director, is our local historian who has written six informative books on area history.
KATHLEEN SYKES, 13 years on staff. Staff writer, editor of one issue a year. A former editor at House Beautiful for many years, Kathy has written three books, one on the Gothic Revival and two on the Shakers. She enjoys pottery and painting in her free time.
LISA RINEHART, 10 years on staff. Staff writer, editor of one issue a year. After a career as a professional ballet dancer, living in Palisades and contributing to 10964 has been an unexpected gateway to earning a MA in journalism for her, and to founding Mighty Egg Productions, a video production company specializing in visual stories about science, advocacy groups, arts organizations, and, of course, dance.
JACLYN VORENKAMP, 9 years on staff. Staff writer, editor of one issue a year. An M.D., Jackie worked for many years at New York-Presbyterian Hospital as head of its occupational health service. In 2015 she received a Masters in creative writing from Sarah Lawrence College and is now teaching there, writing short stories - her first coming out this spring in Post Road - and working on a novel.
CAROL BAXTER, 16 years as staff writer. Carol, who danced professionally with Alvin Ailey and in Broadway shows, is president of our Community Center and keeps us up to date on its news. She was president of South Orangetown PTA and founder of the Nyack and Palisades Farmers' Markets. You can count on Carol to lead the charge on community issues of importance.
DAVID WOLK, 15 years on staff. Art director for one or two issues a year. David is a professional photographer ( www.davidwolkphotography. com ) who brings a discerning eye to the images he captures. David is a designer and publisher of on-demand books, a computer guru and quite a coffee connoisseur. He is also a black belt in Jujitsu, a Brown belt in Judo and plays to an 8 handicap.
TOM MAZZIOTTI, 4 years on staff. Tom has directed two theatrically released feature films (Charlie Hoboken, Undertow) and is currently working on his third. He is the recipient of Rockland County Executive's 2000 Historic Preservation Merit award for the Waterfall house in Grandview, as well as multiple awards for his classic truck collection. He enjoys hosting Little Known Films at the library.
PAUL RICCOBONO, 2 years on staff. Staff writer. Paul heads up a mechanical consulting and contracting company in Manhattan. He completed a post graduate program in systems design at NYU in 2013 and is also an advisor to The Center for Environmental Therapeutics, an international non-profit dedicated to educate the public and professionals about effective use of environmental therapies.
GREG NEMESDY, new to staff. Staff writer. Greg, 19 and a freshman in the Honors Program at Rockland Community College, is majoring in business. He enjoys writing, travel and community activities.