BALL SEASON IS OPEN!
May 2019 - Issue 245
The Palisades Sparkill Little League, founded circa 1965 by Palisades dad Arthur Firestone, began with four teams for children ages 8 to 12. The teams were the Dodgers, Giants, Patriots and Yankees.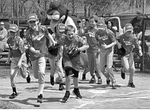 Today, the League has thirteen teams divided into six divisions; T-ball, Juniors, Minors, Majors, Softball, and Sparks traveling teams. Twenty-five parents volunteer to coach 140 boys and girls ages 4 to 13. The League continues through the support of volunteers, coaches, board members, parents, sponsors and the American Legion, John M. Perry Post #1044, which donated the John O'Rourke Memorial Field across from their building. The teams play on weekends. Grab some peanuts and come watch a game!