A Book for People Who Love their Pets
Dec 2021 - Issue 256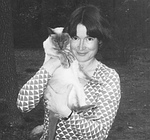 Any animal lover will enjoy reading Four Lives + Two, Our Lives with Our Furry Friends, by Marina Harrison, Cristina Biaggi and Gianni Biaggi. The privately printed book is beautifully laid out on pages with colored backgrounds and includes pictures of the family's pets and their owners and stories of the animals' lives. Marina, Cristina and Gianno had an idyllic childhood, living in a villa in Italy with a goat named Misti, a cow, a bunch of parrots and an aviary containing countless birds. Lizards, snakes and turtles lived in the garden, and the family had many pet dogs, as well as monkeys.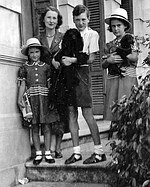 Their father loved dogs and had ten of them. Dachshunds were a favorite breed. Throughout their adult lives, all three of the authors have continued to own much loved dogs and cats.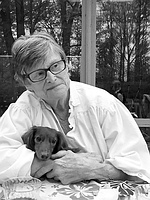 There will be a book-signing party at the Palisades Community Center on Saturday December 4 from 4 pm to 6 pm at which all three authors will talk about the book and sign copies. Contact Cristina directly at amandla379@gmail.com if you have questions about the event. You must be masked to enter the Community Center.