Bulletin Board: December 2017
Dec 2017 - Issue 239
Katie Elevitch Opens Art Gallery
Former Palisades resident Katie Elevitch has opened up 95 1/2 Main, an Art Gallery and Arts Event and Workshop Space in the heart of downtown Nyack.. The next group exhibit opens Friday December 1st, and is titled "Quiet and Noise: Peace in Painful Times" and will feature local Rockland County artists. Also in December: Katie will perform an intimate concert of original music to launch the space's new music and performance series "The Listening Room" on Thursday Dec. 7, 7:00-9:00 pm. Proceeds from this concert will benefit 95 1/2 Main's arts programs and exhibitions.
Noted Jazz Musician Erik Lawrence will perform on Saturday Dec. 9, 7:00 pm. Please visit www.95halfmain.com/ for more information. You can follow 95 1/2 Main on Facebook and Instagram, @95halfmain.
Palis-Agers to Meet December 21
The group will meet on Thursday, December 21 at 1:30 in the Community Room of the Palisades Presbyterian Church to share coffee, cookies and conversation. We welcome new members. For any questions call Alice Gerard at 845-359-4338.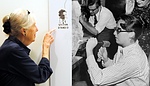 Young Harriet Hyams, the Artist
Harriet Hyams in 2017 pointing at an old picture showing her working at MoMa to sculpt marble with her teacher, Lorrie Goulet, behind her giving criticism. Harriet took classes at the Museum for several years and later became a successful artist. When asked about the moment when she decided to become an artist, Harriet simply said, "It happened." While she was taking MoMA classes, art and life were inseparable. (Adapted from an article by Sarah Torres, MoMa.)
Annie Gerard's Pet Peeve:
Woods Road is a popular place for dog-walking, and unfortunately, some visitors have not been following local laws and neighborhood etiquette regarding cleanup of wastes. Wherever you walk, PLEASE be aware of where your dog is leaving their poop; clean it up and dispose of it properly. To do otherwise is not only unneighborly but illegal.
HOLIDAY MUSIC

Grace Episcopal Church Messiah Sing
Once again, Brandon Beachamp will conduct our annual Messiah Sing. Professional soloists will perform the arias from Handel's masterwork and you will sing the choruses. A limited number of scores will be available to borrow. Afterwards, join us for some seasonal carols, cookies and cider. Admission: $10; children under 12 free (and are most welcome!). Sunday, December 10, 4:00pm
Classical and Klezmer Music for Hanukkah
Starring clarinetist Alexander Fiterstein, an Avery Fisher Career Grant winner, accompanied by cello and piano The Reform Temple of Rockland Nyack Campus, Nyack Saturday, December 16, 7:30 pm
Union Arts Center
Anna Veleva's Rockland Holiday Gala Concert Sing along, Holiday gifts and delicacies. December 10, 4:30 pm, $40 at the door