Bulletin Board: December 2019
Nov 2019 - Issue 247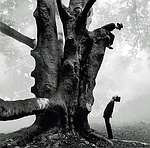 A collection of Rodney Smith's iconic photographs will be on display at The Edward Hopper House Museum. Human in Nature: The Art & Wit of Rodney Smith runs from December 7 through March 8, 2020 and features 20 black and white and color photographs, illustrating Smith's love affair with nature. His images are instantly recognizable for their surrealism, style and humor. Smith was a long-time Palisades resident. A members' reception will be held on December 6. The Hopper House is located at 82 North Broadway, Nyack.
The Art School at Old Church is holding its 45th annual Pottery Show and Sale December 6 to 8. The three-day fundraiser features more than 3,000 one-of-a-kind works by 29 distinguished potters. Opening night is Friday, December 6, from 6:00 to 9:00 pm. Saturday hours are 10:00 am to 5:00 pm and Sunday from 11:00 am to 4:00 pm. Suggested donation $20 Friday, $10 Saturday and Sunday. The Art School at Old Church is located at 561 Piermont Road, Demarest, NJ, 201-767-7160.
The Second South Orangetown Tree Lighting will take place at the Manse Barn in Tappan on Saturday, December 7, at 3:00 pm with vendors, activities and caroling.

ROCA'S AffordableArt&PotteryBazaar, December8-21, features work from regional artists. The show opens from 1:00 to 5:00 pm on the 8th and there will be a jewelry trunk show that afternoon. Hours are Monday to Friday 10:00 to 5:00 pm, Saturday and Sunday 11:00 am to 4:00 pm. ROCA is located at 27 South Greenbush in West Nyack.
On Tuesday, December 10, ROCA is presenting singer, songwriter Josh Rouse with songs from his new album, The Holiday Sounds of Josh Rouse. The concert starts at 7:30 pm and costs $25.
Rivertown Film presents Toni Morrison: The Pieces I Am, a film about the Nobel Prize-winning author in Literature and local resident, which includes interviews with the pre-eminent writer. The documentary will be followed by a discussion led by Bill Batson. Wednesday, December 11 at 8:00 pm at Nyack Center, Broadway at Depew Avenue.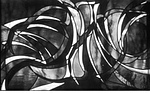 Autonomous stained glass panels, glass sculpture and drawings for sale by renowned local artist Harriet Hyams. Call 845-359-0061, or email harriart50@gmail.com for an appointment. www.harriethyams.com.
The Palisades Library has added Mohonk Preserve and the Brooklyn Botanic Garden to its free pass list of museums and parks. These now include:
• Brooklyn Botanic Garden - 2 passes (2 adults and children under 17).
• Mohonk Preserve - 4 passes.
• Storm King Art Center - 2 adult passes and 4 children under 18.
• Motorcycle Pedia Museum, Newburgh - 2 passes.
• Empire Pass for NY State Parks - a free parking pass for Rockland Lake, Bear Mountain, Harriman, Rockefeller Preserve, Robert Moses State Park and others.
Free passes are available for seven days to Library members. Only one pass may be checked out at a time. Overdue passes are $10 a day. A listing of New York museums that are free, sometimes free or have a suggested admission is on the Library's website.
Elizabeth Fox passed away on October 16, 2019. Elizabeth, a Palisades resident for over 60 years, was born on October 8, 1930 in Astoria, NY. She was an accomplished equestrian, a mainstay in the many stables that existed in the then rural Long Island. Elizabeth was predeceased by daughters, Caroline (1956) and Pamela (1992). She is survived by her children, Jim (Christa) of Charlotte, Vermont; John (Mary Pat) of Nyack; Dennis (Beth) of Palisades and Suzanne of Nyack and by 12 grandchildren and 8 great-grandchildren.
The Palis-Agers will meet in the community room of the Palisades Presbyterian Church at 1:30 on Thursday, December 19, to share conversation, cookies and coffee.
Is your street light out? You can report the pole number and street location on the Town website at this link:orangetown.com/Forms/streetlight. The repair will take up to 3 weeks.