Bulletin Board: March 2017
Mar 2017 - Issue 236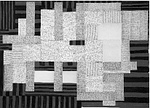 SUZANNAH FROSCH IN ART SHOW
Art by Suzanna Frosch will be featured in Edward Hopper House show, Rock, Paper, Scissors, which runs from March 10 to May 21, 2017. The show features the work of three artists, Suzanna Frosch, Polly King and John Rosis, who create space and depth through the use of collage and layered materials.
Suzanna's found objects mark the passage of time and, she relates, "possess their own narrative, each a silent reminder of their personal history." Hopper House, 82 North Broadway, Nyack. Opening Reception: Thursday, March 9, 6:30 to 8:30 pm.
NEW APPOINTMENT FOR JOANNE BARAK
Joanne Barak has been named to the American Arbitration Association's newly created panel for M&A and Joint Venture Disputes. She is a longstanding and internationally recognized neutral arbitrator, serving on, among others, the American Arbitration Association's Commercial Panel and the International Centre for Dispute Resolution Panel. She is a Fellow of the College of Commercial Arbitrators, where she was recently elected to the Board of Directors for a three - year term.
ANNA BARYSHNIKOV ON HER WAY TO STARDOM
Look for Anna Baryshnikov in Manchester by the Sea, one of the most talked about movies of the year. She plays one of Patrick's girlfriends.
INDIAN POINT TO CLOSE
Entergy announced that it will close Units 2 and 3 at Indian Point Energy Center in 2020 and 2021. Unit 1, built by ConEdison and in operation from 1963, was closed in 1974. Entergy purchased the larger units 2 and 3 in 2001. In 2000 NRC rated unit 2 as the most trouble-plagued nuclear power plant in the country.
Entergy reported that the closure was due to increasing operating costs and low prices of natural gas, the result of the development of the Marcellus Shale Formation. There had been strong opposition from environmental groups and New York Governor Andrew Cuomo over concern with issues on the aging units such as radioactive releases, fish killed from intake of Hudson River water for cooling reactors and their proximity to New York City. New York State in its settlement has agreed to drop legal challenges to the plants' license renewals for its remaining time.
PIANIST AT UNION ARTS CENTER
Italian pianist Alessio Bax makes a rare appearance in Rockland County on Sunday, March 5, 2:00 pm to 4:00 pm. Bax is a recipient of the Avery Fisher Career Grant and a former member of the Chamber Music Society of Lincoln Center. He will play Mozart, Schubert, Scriabin and Ravel. For ticketing information, contact ArtsRock, 855-278-7762.
WOMEN'S SPRING RENEWAL ONE-DAY RETREAT
On Sunday, March 26, 9:00 am to 5:00 pm, there will be a day-long restorative retreat designed by Dee Yergo and Petrina Plecko at the Union Arts Center that offers selfrenewal tools and strategies to cope with daily challenges. Yoga and meditation experience is welcome but not necessary. $125 includes vegan spring lunch prepared by chef Angela Rivera of Halo & Horns Kitchen. Contact deeandpetrina@gmail.com.
PALIS-AGERS
The Palis-Agers will meet at 1:30 pm in the Community Room of the Palisades Presbyterian Church on Thursday, March 16 and on Thursday, April 13. We will share conversation, coffee and cookies - please join us.
APARTMENT FOR RENT
This one bedroom apartment is in a recently renovated Snedens Landing historic house. It has a separate entrance, its own washer/dryer and new kitchen appliances. $2,000 per month, which includes utilities. Call 914-649-8624.