Bulletin Board, May 2022
May 2022 - Issue 258
Rockland Center For the Arts
"See, Observe, Think, Reflect, Internalize"
April 2 - June 11
ROCA hosts an exhibition of award winning photographer Collette V. Fournier's search for intersections between her personal history, modern day Africa, and the African American experience. Fournier's photo- graphs of a classroom in Senegal, the Million Man March in Philadelphia, post-Katrina New Orleans, and a Queen Mother ceremony in Ghana invite the viewer to absorb the resilience, beauty and hope of her subjects. Admission is free.
Virtual Artist Talk with Collette V. Fournier
May 19, 7:00pm to 8:00pm
Register online at www.rocklandartcenter.org to re- serve a spot for the virtual artist talk "In Search of My African Roots." Admission is free.
Palisadian Lily Plotkin has produced the documentary short Lynching Postcards: A Token of a Great Day, directed by Christine Turner, which won the 2022 NAACP Image Award in its category. It was also nominated for a Peabody Award and shortlisted for this year's Academy Awards in the best documentary short category. Lily was also Associate Producer on Netflix's six-episode Amend: The Fight for America about the fight for equal rights outlined in the Constitution's 14th Amendment.
Palisadian Kaori Shih has been selected for a prestigious chocolate/pastry bootcamp taught by chocolate doyenne Melissa Coppel at her school in Las Vegas. Classmates of the budding chocolatier were professionals from around the world including the head pastry chef at Joël Robuchon.
Private Tutoring
Palisadian Allison O'Connor is available for one-on-one private tutoring lessons to strengthen reading and spelling skills using the multi sensory Orton-Gillingham approach. Allison is a Special Education teacher and a member of the Orton-Gillingham Academy. For more information, email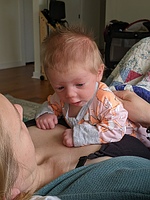 Perri Gerard-Little and Conner Wiktorowitz announce the birth of their son Leo Anders Gerard Wiktorowitz, who was born at 5:32 am on April 8, 7 lbs 11 oz and 20.5 inches long. The couple live in Wheaton, Illinois. Leo's birth makes Annie Gerard a grandmother and Alice Gerard a great-grandmother.
Emma Suzie Paul was born on March 31, 2022 to Gipsa Joseph and Jaby Paul. Emma joins her older sister Zoey who adores her. Jaby is a general dentist at Rockland Dental Group in New City and the Dental Collective in White Plains and Gipsa is an Internal Medicine and Pediatrics physician at One Medical in New York City.