Bulletin Board, Oct. 2023
Oct 2023 - Issue 263
VOTE! VOTE!
General Election for local positions on November 7
Oct 28–30 9:00 am – 5:00 pm
Oct 31 Noon - 8:00 pm
Nov 1 9:00 am – 5:00 pm
Nov 2 Noon - 8:00 pm
Nov 3–5 9:00 am – 5:00 pm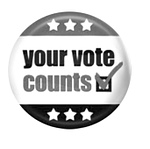 Election Day Voting
Tuesday, November 7, 2023, 6:00 am – 9:00 pm Palisades residents vote at Sparkill/Palisades Fire Department: 520 NY Route 340, Sparkill, NY.
Hopper House Museum's 8th Annual Benefit* supporting arts education is on October 1, from 3:00 - 6:00 pm. It will be held at the 1930s former home and studio of renowned artist Jasper Johns, whose work is in the collection of MoMA and the Whitney. Johns lived here at 160 West Main Street, Stony Point, in the 1970s and 80s. Tickets are $250 members, $350 nonmembers.
Hopper House Museum's current exhibition celebrates the centennial of American artist Ellsworth Kelly's birth with a show of nine large–scale black and white lithographs dedicated to the motif of rivers around the world. Ellsworth Kelly: States of the River runs until November 26. There will be a juried show of members work following the Kelly show. Check the museum's website edwardhopperhouse for upcoming events and talks. Hopper House is at 82 North Broadway, Nyack.
There's a new book out on photographer Rodney Smith, a Palisades resident until his untimely death in 2016. Rodney Smith: Leap of Faith, published by Getty Publications, features 200 of his wonderful photographs plus a discussion on his life by Getty curator Paul Martineau and Rodney's exacting work process by Rebecca Senf, curator at the Center for Creative Photography at the University of Arizona. You can see some of Rodney's stylish, witty photographs at Staley–Wise Gallery, 100 Crosby Street, NYC, until November 4.
HNA Update
In our last update, we reported that the Orangetown Town Board was moving ahead with eminent domain proceedings to acquire the HNA property through condemnation, based on the negligence and decay of the property and that HNA after almost two years, was unable to close a deal with Reveil (the preferred developer whose plan is to renovate the hotel and add thirty townhouses for use by hotel guests.) Last year, SL Green, a New York–based REIT, won an arbitration award of $185 million against HNA Group International regarding an issue with a Manhattan Park Avenue property. SL Green required HNA to report all sales to pay off the debt. A twist came in July when the HNA property was transferred to SL Green. There is hope that SL Green will proceed with a deal with Reveil, but if not, SL Green is free to do what they want— develop, or sell the property subject to zoning.
Lamont-Doherty is holding Open House this year on October 14 from 10:00 am – 4:00 pm. Free with suggested donation of $5. There will be lab tours and hands–on earth science activities. 82 Route 9 W.
LAST MINUTE DILEMMA? Do you need a ride for your child(ren) to get to school, an activity, or elsewhere? Do you need someone to help watch your child or an elderly person and your "regular" person is out sick or called out? Did you need something picked up or dropped off but can't easily get out? Please feel free to contact me. I am a former Palisadian who has a father residing in the community since 1969. I am in between jobs and available to help temporarily. I welcome the opportunity to make your life easier. Please reach out to me. Lauren Bofford at 914–391–3061 or rocklandtonj@aol.com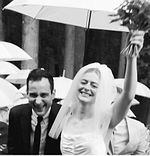 Anna Katerina Baryshnikov and Theodore Marco Bergman were married in Palisades on June 17th in the backyard of the bride's parents. Love and many congratulations to the happy couple.