Bulletin Board: October 2017
Oct 2017 - Issue 238
Cristina Biaggi Installation at The Saunders Farm Project 2017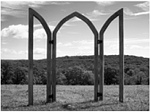 Collaborative Concepts held a mid-run reception on September 23 for its outdoor sculpture exhibit at the Saunders Farm Project 2017 in Garrison. Featured among 60 other works is Cristina Biaggi's hilltop installation "Triptych Portal" overlooking 140 acres of rolling farmland. The exhibit is open daily to the public from 10:00 am until dusk. Season ends Saturday, October 28 and admission is free.
Update on Sain Building
The saga of the Sain Building continues. In an aggressive PR campaign, Rockland County Executive Ed Day is taking shots at what he calls the "Ramapo cabal," a group of five Ramapo Democrats in the county Legislature who have repeatedly voted to block the sale of the New City office building. Day contends there is a buyer willing to pay over $4.5 million to build senior housing on the site, an amount that would put a nice dent in the County's $10 million deficit. In articles published in LoHud, New City Patch and the Rockland County Times, he points out that the county could collect around $500,000 in real estate taxes when the senior housing complex is up and running.
Nonetheless, Ramapo Democrats Toney Earl, Ilan Schoenberger, Philip Soskin, Aron Weider, and Alden Wolfe continue to vote no. All agree the building is a knock down, and monies from the sale were included in the 2016 budget, which was approved by the Legislature – the same Legislature where these five Ramapo Democrats currently sit. The no votes remain a mystery.
New Baby for the Baraks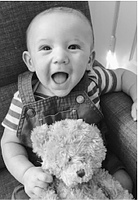 Joshua Regan Barak arrived on April 18, 2017 at 7 pounds, 13 ounces, 19.5 inches long. He is the little brother of Asher and Eva, the son of Natalie and Avi (aka B.J.) and the grandson of Joanne & Tuvia.
Lamont Doherty News
Palisades resident Natalie Boelman, a Lamont scientist, is to receive one of Columbia University's first Arts and Sciences Catalyst Grants designed to stimulate projects that have significant societal impact. The grant is for a project entitled "Reducing the catastrophic effects of Oak Wilt disease through early detection and ecologically sound decision making." First found in Wisconsin about 70 years ago, the lethal fungal disease that kills trees by restricting water uptake has recently been reported in New York.
Open House at Lamont Doherty will be held on Saturday, October 7, from 10:00 am to 4:00 pm. All are welcome.
Arts and Drafts at the Union Arts Center
Kathy Sykes will offer her pottery for sale at the Arts and Drafts fair at the Union Arts Center on Sunday, November 12. The day long event will highlight the diverse skills of the community with craft beers, artisan foods and live music. Artists will be selling a wide range of hand crafted wares from paintings, drawings, illustrations, prints, photography, wood working and jewelry to metal sculptures, small sculptures, and functional 3D objects. 10:00 am to 5:00 pm. Union Arts Center, 2 Union Street, Sparkill, New York.
Another New Baby Palisadian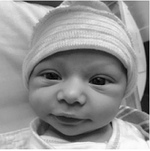 Valentina Marie Riccobono was born July 12, 2017 at Lennox Hill hospital to Susan and Paul Riccobono on Closter Road. She's happy and healthy and very much enjoys life in Palisades so far!
Movies Under the Stars
On an inspired impulse, Susan Nemesdy and her sons decked out the Triangle on September 15 with strings of lights, a concession stand, chairs, and a movie screen. The program featured Loony Tunes cartoons followed by Shrek 2 to the amusement and entertainment of all the snagged passersby. Susan plans to do it again for the entire community, maybe as a kind of wandering pop-up theater. Stay tuned.
Open House at Bell-Ans Center of the Arts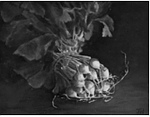 Palisadian Joan Hooker was a featured artist at the Bell-Ans Open Studio on September 16 where painters, photographers, and writers exhibited their work in the workspace where it was created. Greta Nettleton, another Palisadian represented, set up her writing desk so that viewers could figuratively look over her shoulder as she researched her book *The Quack's Daughter* currently on sale through Amazon. Exploring the building and its beautiful light was an added pleasure to meeting the artists in their own habitat.
Palis-Agers to Meet on October 19
Members of this group enjoy discussing interesting topics and sharing common problems; in August we exchanged information about avoiding falls and in September a meditation teacher came to tell us about the practice. Our October meeting will take place on Thursday, the 19th, at 1:30 pm in the Community Room of the Palisades Presbyterian Church. As usual, we will share coffee, conversation and cookies. Please call Alice Gerard at 845-359-4338 if you have any questions about the group.
Mikhail Baryshnikov Wins The Praemium Imperiale Award
Every year since 1989, the Japan Art Association recognizes the lifetime achievements of artists whose fields are not covered by the Nobel Prize in Literature. The award will be given in a ceremony in Tokyo this October.
Anna Baryshnikov's First Role on Broadway
Anna Baryshnikov appears in the role of Carol in the Roundabout Theater Company's revival of J.B. Priestley's Time and the Conways directed by Tony Award winner Rebecca Taichman and starring Elizabeth McGovern. The show runs from October 10 through November 26.