Bulletin Board: October 2018
Oct 2018 - Issue 242
Lamont Open House: Lamont-Doherty Earth Observatory presents its annual Open House on Saturday, October 13, 2018 10:00 am - 4:00 pm. Tour a lab, participate in hands-on earth science demonstrations, and learn from world-renowned researchers about their latest discoveries. 61 Route 9W, Palisades, NY.
Land for Sale: A vacant, private, cleared land parcel consisting of two 50' x 50' lots, located at 9 and 11 Bergen Avenue, Palisades. Flat with mature trees, this is a beautiful country setting for a build-to-suit. A paved road and utilities are adjacent to the property. Asking $250,000. Call Sheila at 908- 310-6949 or e-mail bergenave@hughes.net.
Palis-Agers: The Palis-Agers will meet at 1:30 pm on October 18 and November 16, as usual in the community room of the Palisades Presbyterian Church. Right now is an eventful time and we will talk about what's happening in our country and our community, as well as sharing personal concerns. Please come to one of our meetings if you enjoy conversation with Palisades elders.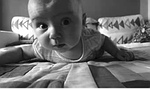 New Baby: Ayla Kahn was born on May 25 to Ezra and Lindsay Kahn of Baltimore, Maryland. Ayla is the granddaughter of Palisades resident Jackie Vorenkamp.
Wedding Announcement: Aidan Francis Savino Walsh and Kaylyn Michelle Mounce were married Saturday, September 22, 2018 in the presence of their adoring family and friends at the Palisades residence of Cristina Biaggi, the mother of the groom.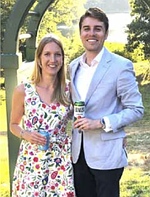 Wedding Announcement: On September 1, Peregrine Gerard-Little and Conner Wiktorowitz were married at the Gerard-Savage house on Cape Cod. It was a small wedding, with only immediate families, but a very festive occasion. Conner's brother officiated at the ceremony as a Solemnizer, a status Massachusetts confers for 24 hours if you fill out the right forms. Instead of a wedding cake, Alice Gerard made three blueberry kuchens for the wedding dinner. Perry and Connor lived in Palisades with Perri's parents, Annie Gerard and Fred Little, during the last year, but left a few days after the wedding for Illinois, where Perri will be working in archaeology at the Argonne National Laboratory.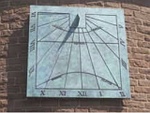 Sundials At The Stable: Palisades artist, Robert Adzema, is showing his work from November 1 through November 30 in The Art Gallery at the Stable in Ridgewood, New Jersey. His signature bronze garden sundials, models of his architectural commissions in paper and wood, and photos of his public commissions will be on exhibit, including maquettes of the sundial he recently completed for the Van Vleck Observatory at Wesleyan University.
A reception for the artist will be held on Saturday, November 17, from 3:00 pm to 5:00 pm at 259 North Maple Avenue in Ridgewood. For information phone: 201-670-5560 or 5564. Gallery hours are Monday through Friday from 8:30 am to 4:30 pm.