Bulletin Board, October 2020
Oct 2020 - Issue 251
At The Historical Society of Rockland County
A virtual exhibition called Leaving Her Mark: Women of Rockland, celebrates 100 years of women's suffrage. Twenty notable women in Rockland's history who overcame challenges to accomplish their goals are highlighted. Among the women is Isabelle Keating Savell, one of the people responsible for getting Snedens Landing designated a historic area. Thru November 1.
Inside Out: Women, Fashion & The Fight for the Vote
The show focuses on how the fight for women's suffrage changed fashion and how women's fashion changed in response to suffrage. Wednesdays - Fridays, 10:00 am to 5:00 pm. Thru 2021. The Historical Society, 20 Zukor Road, New City, NY 10956, 845-634-9626.
RESTAURANT NEWS

The Roost, which offers American and Mediterranean cuisine, has moved around the corner into the Union Arts Center at 2 Union Street, Sparkill.
Autumn, a new French bistro from the owners of Pier 701, has moved into Roost's old space at 623 Main Street, Sparkill.
Noble Cafe Coffee Shop at 641 Main Street has also recently arrived in Sparkill. It features artisan coffee and fresh baked goods.
TacocaT NY Food Truck from the team at D'Vine Bar is located just next door to it at 6 Depot Square, Sparkill. It serves Asian-inspired tacos for take away or eaten at picnic tables outdoors. (They plan to remain open until mid-December.)
Mercato Roman Pizza, owned by the folks at The Market on Rt 9, is located at 31 Rt 303 in Tappan. It has 72-hour cold sourdough fermentation, which makes its dough crisp and airy.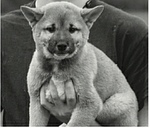 Interested in adopting a puppy?
I just visited four beautiful rescued Shiba pups at a Pennsylvania shelter, looking for new homes. Shibas are special dogs and not to be adopted lightly - please contact me for information if you want to know more: Annie Gerard, annieg@kokumo.net
LAMONT OPEN HOUSE AT HOME - DISCOVER EARTH SCIENCE Monday, October 19 - Thursday, October 22, 2020 Lamont-Doherty Earth Observatory is excited to present its first virtual open house: Lamont Open House at Home, which will engage, educate and entertain earth science enthusiasts of all ages. This four-day online experience will feature a combination of live events, prerecorded videos and an interactive game.
For more information go to openhouse.ldeo or contact events@ldeo.columbia.edu.