Bulletin Board, October 2021
Oct 2021 - Issue 255
LAMONT OPEN HOUSE
Whether you're an aspiring young scientist or a long-time science enthusiast, you'll find Lamont-Doherty's "at Home" Open House on October 13 and 14 of interest. Participate in hands-on science activities, learn about the latest discoveries of world-renowned researchers, take virtual lab tours and more. For additional information go to openhouse.ldeo.columbia.edu.
Rockland County Supervisor Teresa Kenny's weekly e-newsletter, State of the Town, is filled with information on happenings around the county. Musical events, a community BBQ, free books and haircuts for school kids, a 5 K walk to benefit mental health awareness are among the wide variety of community events listed. Go to myemail.constantcontact.com to register.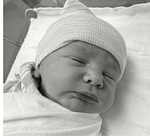 Suzanne and Paul Riccobono welcomed baby Massimo weighing in at 8 lbs., 10 oz. on July 22. Four-year old Valentina is proving to be a great "big sister."
RESTAURANT NEWS
O lar is moving to Northvale. Good news for lovers of this small Piermont restaurant featuring Mediterranean and Spanish fare. With its relocation to the larger former site of Taste of Spain at 493 Tappan Road, getting a table to enjoy your favorite pizza or tapas should be easier.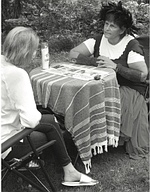 The popular Piermont Farmers Market is at Parelli Park until November 21 then at the M&T Bank lot where it will remain throughout the winter. Open from 10:00 to 3:00 pm, you'll find a farmstand, organic meat, artisan-prepared take-home food, organic mushrooms, gluten free baked goods and more. Diana Green will be doing card readings here on Halloween, Sunday, October 31.
The Mental Health Association of Rockland County turns 70 this year. Especially relevant in this time of Covid, the organization is a source of mental health treatment and empowerment programs for adults, children and families in Rockland County. Join them as they celebrate this impressive anniversary on October 10, World Mental Health Day, with an online virtual event scheduled from noon to 3:00 pm. Send donations to Mental Health Association, 140 Rt 303, Valley Cottage, NY 10989.
As the seasons change and it gets dark early, it's a good idea to put a timer on your inside lights to go on around 5:00 pm so it looks like someone is home. Dark houses are an invitation for break-ins. House robberies are happening throughout Orangetown, as are car break-ins in driveways. The South Orangetown police recommend that you never leave any valuables (purse, keys, laptops, etc.) in your car and keep your car door locked. If you go away, put your newspaper subscription on hold so they don't pile up in your driveway.
RoCA Contemporary Faculty Exhibit, September 13 to October 9, Monday to Saturday, 11:00 to 4:00 pm. RoCA, 27 So. Greenbush Rd., West Nyack.
The Baryshnikov Arts Center
BAC's digital programming platform continues with a Fall season of original and archival presentations. Beginning with the world premier of In Conversation With Merce on September 20 and running through January 24, 2022, all presentations are free. For more information go to bacnyc.org
Fall TV shows featuring Palisades thespians. Beginning September 13, Julianna Canfield stars as Beth Deville in Y the Last Man on FX Hulu. November 5 brings the third and final season of Dickinson on AppleTV with Anna Baryshnikov as Lavinia Dickinson.
HNA NEWS
The Town of Orangetown has been committed to find a buyer for the HNA (old IBM) property on RT 9W. After months of the RFEI (Request for Express of Interest) process, the Town narrowed down nine submissions to three semi-finalists. On June 2, via webinar for public viewing, three semi-finalists presented their proposals to the Board. #1: Hotel/Resort (Kitching/Pelayo), #2: Film Studio (Palisades Architect Rick Cook), and #3: Hotel and residential units (Billy Procida). On June 6, dozens of community members attended two informational meetings held in Palisades. Afterwards, over fifty people sent letters to the Town Board supporting contenders #1 and #2. Over sixty members of the community showed up at the following Town board meeting expressing the same opinion.
On June 29, the Town Board voted 4 to 1 for proposal #1: Hotel/Resort. At press time, the Town was getting ready to submit the purchase proposal to HNA. However, because the bankruptcy of the global HNA Group, announced in January 2021, it is not clear when, how or if they will be able to sell the property.