Chirpy: Little Bird, Big Message
May 2015 - Issue 229
Blog post from Daniel: Chirpy looks like a stuffed animal.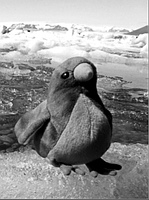 Response from Chirpy: Do you have a problem with that?
Daniel has a point. Chirpy really IS a stuffed animal, a little robin that sits on Ms. Christie-Blick's desk in a 5th grade classroom of Cottage Lane School in Blauvelt….when he's not traveling the world and blogging back to the children, that is.
A gift from a student way back in 2006 (ancient history to kids), Chirpy has become a world traveler. And he's opened the world to many children. Not only does he travel with Ms. Christie-Blick, but also with her students as they explore different parts of the globe. Chirpy's traveling companion (teacher or student) writes a blog page introducing the unique culture of the new place, writing from this little bird's point-of-view. Encouraging a global perspective, he shows the children that visiting a different country, or a different state, can be both interesting and fun. Children relate to Chirpy. He's childlike himself - curious, enthusiastic, playful, and sometimes a little bit naughty. He captures a child's attention and imagination.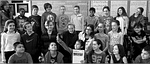 Palisades resident Gianna Mazzola is in Ms. Christie-Blick's class. She thinks Chirpy's blog is a good idea because kids get to learn about countries they've never even heard of before. "I never knew there was a country covered by volcanoes and glaciers," she says. "Now that I've seen Chirpy's photos, I want to go to Iceland and see it all for myself!" Ms. Christie-Blick was in Iceland last summer photographing the country's "fire and ice" for her Earth Science Unit. Chirpy features prominently in several of her pictures introducing a new country to students, providing a "fun factor" for presentations that introduce serious science topics, such as the link between global warming and glacial ice melt.
Chirpy encourages children to view cultural differences as fascinating, not weird; intriguing, not scary. If you ask 5th grader Alex, he'll tell you that Chirpy in India is his favorite blog page. Recently, classmate Alvin and Chirpy traveled to India, where Alvin's parents were born and raised. Chirpy and Alvin's blog page introduces classmates to a bit of Alvin's culture in a way that helps them understand how cool it is that Alvin is able to hold onto his heritage while also embracing an American lifestyle. It presents this exotic, exciting country to suburban New Yorkers. It also provides a tool for communication, reminding us how fortunate we are to have Alvin, and others like him whose parents come from another country, to introduce us to new customs and ways of thinking. Our lives are richer for it.
Chirpy also traveled to New Zealand and Australia with Ruby this year. In addition to showing stunning scenery, their blog page is filled with photos of many unusual animals found only Down Under, such as kookaburras, koalas, and kangaroos. Another classmate Ally will tell you that after seeing these pictures, she's ready to pack up and go visit! Now she just needs to convince her parents.
5th grader Kara sums it up nicely. "I used to think that vacation and learning don't mix. But after meeting Chirpy, I'm excited about the idea of learning as much as I can when I travel. Maybe I'll even make a blog page about it to share with others."
You can visit Chirpy's blog at http:// blogs.socsd.org/kchristieblick/ chirpy/
Ms. Christie-Blick's class reads all comments. They'd love to hear from Palisadians!