At the Climate Strike
Oct 2019 - Issue 246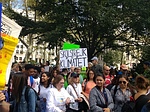 The Global Climate Strike in NYC was an inspiring, if bittersweet, experience. It was great to see how many schoolchildren were there, with teachers, parents, grandparents, and other supporters coming together around the idea that we must invest in change for the future of coming generations, and the planet. I heard estimates from 100,000 to 350,000 in attendance.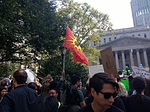 There were more young people, more diverse backgrounds, races, costumes, more young girls and women, than we had seen in past protests. And so many creative, hand-lettered signs! As we marched from Foley Square towards Battery Park, I enjoyed the high strong voices chanting marching slogans, but missed the camaraderie I've found with groups of (more closely age or gender-aligned) veteran activists. We couldn't help feeling a depressing awareness that our generation and those before us, with easy access to carbon-based energy that has fueled ever-more comfortable lifestyles, are largely responsible for the increasingly inevitable climate emergency we find ourselves heading towards.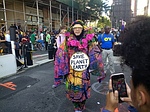 I worry that events like this are not leading to enough action, and that the students who were so hopeful and enthusiastic will need to be tough, pragmatic, and determined, to keep up the fight in what will be a long, slow battle. I hope for their sakes that we all live up to the challenge.
Pictures by Fred Little