COMMUNITY CHOICE AGGREGATION COMES TO PALISADES
Mar 2020 - Issue 248
Often, we are blind to what happens behind the scenes in our homes and businesses. Our garbage gets picked up. We turn on the faucet and the water runs. We flip the light switch, and, as if by wizardry, the room is lit. But what are the technical, regulatory and administrative elements that make such modern conveniences possible? Palisades is about to participate in a program of aggregating our purchasing power with the possibility that our energy consumption will be less expensive and more renewable.
On October 1, 2019, the Orangetown Town Board approved Community Choice Aggregation (CCA), a municipal energy procurement model that replaces the utility as the default supplier of electricity for virtually all homes and businesses within the town. The law grants authority to the Town of Orangetown, in connection with implementation of a CCA program, to acquire utility data, to select, through competitive solicitation, one or more energy supplier(s), and to maximize value for consumers through enhanced services related to dis- tributed energy resources. Orangetown has joined with Clarkstown and the villages of Nyack, South Nyack, Upper Nyack and Haverstraw to further enhance its market clout.
By pooling demand, CCA communities are able to negotiate lower rates with private suppliers, and to choose cleaner energy. We can participate in the clean energy economy by seeking a greater percentage of our electricity from renewable sources. CCA also offers consumer protection against exorbitant exit fees often charged by power suppliers. To date, more than five million customers are served by Community Choice Aggregation programs in seven states: New York, California, Illinois, Massachusetts, Ohio, New Jersey and Rhode Island.
Under these plans, existing utilities - in our case, Orange and Rockland (O&R) – continue to deliver reliable power, maintain power lines, and respond to service outages. Customers receive one bill each month, directlly from the utility, but the bill will reflect the change in supplier. The law allows for creation of a CCA Adminis- trator to coordinate the program. The administrator for Orangetown is Joule Associates, which, in partnership with Hudson Valley Energy, is responsible for program organization, administration, procurement, community outreach and education, and for meeting all requirements for the program's implementation.
Although participation is technically up to the individual consumer, the Town of Orangetown has already acted to participate, so all energy consumers are considered "default customers." Everyone currently receiving gas and electric from O&R will be given full notice by mail about the program's start date, and clear instructions on how they can opt-out. Mailings are scheduled for April. Customers will then have 30 days to opt-out of the program (or dis-enroll any time thereafter with no penalty.) Default customers who do not opt out before the supply contract goes into effect will be enrolled automatically into the CCA program. In either case, O&R is required by law to provide equal service to both default customers, and to those who opt out.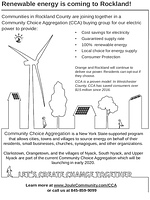 Choosing a supplier through our CCA allows us to choose a 100 percent renewable energy product as the default supply mix. This choice will significantly increase the environmental benefits of participating, although costs may increase somewhat over a non-renewable product. CCA may also provide us with power supply mix options. For example, we may select a basic option, a 100 percent green option, or something in between. Individual customers are given full discretion over which option they choose, Through Community Choice Aggregation, Palisades residents will have an additional vehicle through which to join the "green grid" while potentially reducing the cost of energy for their homes and businesses.