Congresswoman Nita Lowey Retiring
Mar 2020 - Issue 248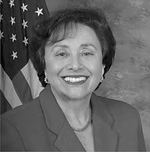 On November 3, Rockland County residents vote not only for president, but to fill Congresswoman Nita Lowey's 17th District seat.
After Congresswoman Lowey announced her retirement, a crowded field of fourteen Democrats and three Republicans has rushed to fill her shoes. David Carlucci is one of them, opening up his New York State Senate spot. In addition, New York State Assembly member Ellen Jaffee is running for re-election.
Lowey, a Democrat, has served as a US House Representative since 1989. She chairs the powerful House Appropriations Committee and has been referred to as one of the most influential members of Congress. Lowey worked on Mario Cuomo's 1974 campaign for Lieutenant Governor and then served as Assistant Secretary of State for New York before being elected to Congress.
Lowey was an early advocate for pandemic preparedness. In response to the 2009 swine flu out-break, she authorized legislation to create a pandemic plan. She has been a leading advocate of increasing federal investment in biomedical research on diseases such as cancer and Alzheimer's.
Among her accomplishments, she authorized legislation to prevent repeat drunk driving offenses. She has been an advocate for the Security Council Resolution for the conflict in Darfur. She played a key role in protecting the New York watershed with environmental laws like the Clean Air Act and the Clean Water Act. She supported after-school programs and authorized a bill mandating food allergen labeling.
More information on all the candidates vying to succeed Congresswoman Nita Lowey can be found at NY CongressionalDistrictElection2020.
With New York State Senator David Carlucci running for Nita Lowey's House seat, his position is now up for grabs. Clarkstown Supervisor George Hoehmann, a Republican, will face off against Clarkstown Town Clerk Justin Sweet, Spring Valley Trustee Eudson Francois, Tony Martinez, or Nyack Trustee Elijah Reichlin-Melnick, all of whom have declared their intentions to seek the Democratic nomination for the 38th State Senate District seat. The oddly drawn 38th Senate District encompasses most of Rockland County, plus Ossining, which is across the Hudson River in Westchester County.
Ellen Jaffee has served in the New York Assembly since 2007, first representing district 95 then district 97, which serves nearly 80,000 registered voters in Orangetown and Ramapo. Jaffee chairs the Assembly Committee on Children and Families. She has fought to protect women's rights, the preservation of the en- vironment and affordable childcare, and has served on numerous committees including the Education, Environmental Conservation, Health, and Mental Health committees. Her term ends December31, 2020.
Republican Michael Lawler, a campaign strategist who currently serves as Orangetown's deputy town supervisor, is running for Jaffee's seat. He started his career working on John McCain's presidential campaign in 2014 and managed the gubernatorial campaign of Robert Astorino who ran against Andrew Cuomo. Lawler spent four years at the NY Republican State Committee where he served as its executive director for two years.
The New York State primary is scheduled for June 23 and one candidate from each party will be chosen. Federal/State/Local early voting is from June 13 to the 21 at Clarkstown, Haverstraw, Orangetown and Ramapo Town Halls. Go to rocklandgov.com for opening hours. Early voting is June 13 – June 21 at the above locations. To get an absentee ballot, go to: rocklandgov.com and download the absentee ballot application. Mail it to: Board of Elections and a ballot will be mailed to you.