COVER-UP OVER THE HUDSON?
Mar 2019 - Issue 244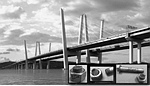 As the new Governor Mario Cuomo Bridge took shape, many of us were surprised how quickly and smoothly the work was progressing. Tappan Zee Constructors (TZC), the main contractor for what was the largest infrastructure project happening in America, has maintained a low profile by being transparent and hitting milestones on time. However, in December the New York Attorney General announced it was investigating the possibility of a cover-up regarding bolt failures on the project. The announcement was both a surprise and a relief to many because the investigation has been ongoing for over a year before it was announced but also because the bridge was deemed inherently safe.
WNBC, the first to report an investigation about problematic bolts, reported that a former safety inspector claimed there were major defects in the bolts, possibly caused by hydrogen embrittlement - a condition that occurs during manufacturing that would cause the bolts to become brittle. In 2013, bolts on the Bay Bridge in San Francisco were affected by this issue requiring $50 million in repairs to fix.
The New York AG announced state officials began testing the A490 bolts, of which over 1 million were used on the bridge, for this condition in 2016 using an independent company and found no quality issues with the bolts. An additional study done in 2017 by another independent firm also found no quality issues; instead the report concluded the small number of failures reported were caused by occasional overtightening, not mass manufacturing defects.
The current inquiry, however, focuses on how initial reports of the 60 bolt failures were handled and if TZC did not disclose these issues properly to the State Thruway Authority, which maintains the bridge. TZC issued a statement pledging willingness to participate in any investigation of a cover-up.