DON'T COMPLAIN...DO SOMETHING!
May 2021 - Issue 254
Rockland County is looking for people who would like to work as election inspectors. It's sort of like passing Go in Monopoly; as a paid volunteer, you get $200 for your service on election day, plus $25 for taking the training class. If you hurry, you can get trained in time to work on both 2021 elections; the primaries are in June and the general elections are in November. Classes are still being offered until May 24 at the county office buildings in New City, off of Route 45. I did the training in March, and I found it to be both fascinating and inspiring. We are lucky to have a great group of people to administer our elections.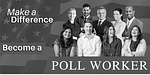 Everything that the Board of Elections does at the polling place is bi-partisan, which has a technical meaning. Inspectors from both major parties must sign off together on all processes, such as voter ID at sign in and ballot counting. The canvass, or official tally of votes, must account for every ballot, whether cast or not. This year, voters will sign in electronically using Apple iPads called "poll pads" especially designed for this purpose. No more paper sign-in book with the upside down signature ladders! Registration for party membership closed in February 2021, so interested volunteers who are independents would need to register for a party and train for the 2022 elections next year.
I was told in March that the BOE has a shortage of Republican volunteers. Come on everyone, now is the time to step up and help out our nation. For details go to rocklandgov.com/files/1716/1616/5581/ inspector_certification_schedule.pdf