Fuel for Fure at Indian Point
May 2015 - Issue 229
For decades, environmental groups, politicians, and concerned citizens have called for closure of the aging nuclear facility in Buchanan, New York, citing safety and environmental issues. Recent federal approval of a 42-inch high-pressure natural gas pipeline within 200 feet of some of the plant's vital structures has activists back on the warpath.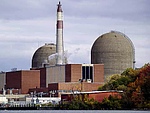 "Somebody has to blow the whistle," says Susan Van Dolsen, a co-founder of the citizens advocacy group, Stop the Algonquin Pipeline Extension (SAPE). "It's crazy."
The pipeline is part of the Algonquin Gas Transmission network. Owned by Spectra Energy, the network delivers gas from the Southwest to the Northeast. The Algonquin portion stretches 1,129 miles through New Jersey, New York, Connecticut, Rhode Island, and Massachusetts, supplying domestic natural gas primarily to the Boston area. The expansion will increase capacity by replacing about 21 miles of 26-inch diameter pipe with 42-inch diameter pipe. In most locations existing pipe will be swapped out for larger pipe, but at Indian Point, because existing gas lines are already dangerously close to the plant's two reactors, new pipe will be laid along the property's perimeter, approximately 1,500 feet from the reactors.
Town officials of Cortlandt, New York hired the consulting firm Accufacts to assess the risks of the Algonquin expansion. Accufacts president Richard Kuprewicz, an expert on gas line risk analysis, and Paul Blanch, an engineer with 45 years experience in nuclear safety, concluded that locating a high-pressure, high-capacity gas line within ten miles of Indian Point is flirting with disaster. They say a pipeline rupture could generate a massive fireball and Spectra's claim that a ruptured line can be shut off remotely within three minutes of detection is unrealistic.
"If these [pipelines] break, corrode, or God forbid, are attacked by terrorists, there's no stopping the fire," says Blanch in an interview with Green Street Radio. Blanch says fire could destroy safety equipment and reach three spent fuel pools at Indian Point containing more radioactive material than either Fukushima or Chernobyl. "The consequences of that release of radioactive material could potentially devastate an area well beyond fifty miles from the Indian Point plants," says Blanch.
According to a 2015 National Transportation Safety Board study, gas lines are inadequately mapped and monitored. Even with stricter management regulations imposed in 2004 the study found "no evidence that the overall occurrence of gas transmission pipeline incidents in high consequence area pipelines has declined."
Nevertheless, the Federal Energy Regulatory Commission (FERC) approved Spectra's application for the Algonguin extension this March.
"We're not stunned by it," says Van Dolsen, "but the fact that they have dismissed legitimate safety concerns is really just unacceptable."
SAPE has filed a formal Request for Rehearing and in early April Senators Charles Schumer and Kirsten Gillibrand sent a joint letter to FERC asking the agency to rescind its decision. They also requested an independent review of safety, environmental, and health concerns.
For more information, updates, or to get involved go to SAPE's website sape2016.org