HNA CONFERENCE CENTER REQUESTS ZONINg CHANGE
Oct 2018 - Issue 242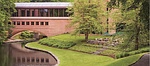 In 1989, the IBM Conference Center was established in Palisades. Created as a conference and executive training center for IBM employees, in the mid-1990s the facility was opened to outside corporations and groups. The 206 room hotel, classrooms, and elegant dining rooms that could be converted into conference spaces equipped with high-speed internet, state-of-the-art technology, and a wide-range of amenities were available to conference guests in a beautiful, secluded setting with ponds complete with resident swans.
In the early 2000s, IBM was granted a Special Permit by the Orangetown Town Board that permitted IBM the "use of existing executive conference center facilities for catered affairs for the general public." This allowed IBM to open its banquet halls, meeting rooms, and beautifully landscaped property to the general public for weddings, fundraisers, bar and bat mitzvahs, and celebrations large and small. Dolce Hotels and Resorts, a large management company operating conference centers, hotels and spas throughout the United States, was hired to oversee operations.
Based on the restrictions of Laboratory Office (LO) zoning, the hotel rooms were legally available only to guests attending the conference/training center programs and catered affairs. But at some point over ten years ago, the hotel rooms quietly became available to the general public. Many in our community booked rooms during storms that caused electrical outages and rooms started appearing on various hotel booking websites.
In 2016, IBM sold the 106-acre, 450,000 square foot property to the HNA Group Co., Ltd for $59.6 million. In the HNA company statement at the time of purchase, "HNA Group intends to maintain the current character of the property and is committed to operating the conference center in a manner that is sensitive to the needs of the Palisades and Rockland communities. In addition to training events for its global workforce, HNA plans to host cultural and social events for its new neighbors." Crescent Hotels and Resorts was hired to manage the property.
On July 26, 2017,HNA came before the Orangetown Planning Board to request the addition of a "Five Story Hotel" with 100 rooms for their executive training center. At that time, the Planning Board informed them, "Please be advised a 'Hotel' is not permitted by right in the LO zone district. A Use Variance will be required for a 'Hotel'. The Executive Conference Facility allows 'housing' for the use of participants and administrators."
Continuing the precedent set by IBM, HNA rented hotel rooms to the general public. However, HNA stopped this practice after the Town Board brought it to their attention. HNA continued to go through the various Town Boards and on December 13, 2017, they were approved for the 100-room addition.
Recently, the community learned that at the July 17, 2018 Town Workshop meeting, HNA requested a Zone change from Laboratory Office (LO) to Office Park (OP). OP status would allow them to legally operate as a hotel. At the following Town Meeting on September 4, two dozen Palisades residents attended to speak and learn about the reasons for and ramifications of this Zone change. Blue Hill Plaza/Pearl River Hilton is the only other OP Zone in the Town. The concern is what kind of over-development does this OP change open Palisades up to: use, traffic, construction, and environmental impact. If adding hotel use is HNA's sole desire, then what other options are available such as a Special Permit or Use Variance that will protect Palisades from future development? The Town Board heard our concerns and set a follow-up Town Board meeting on Tuesday, October 23 at 8:05 pm.
This is a very important issue for Palisades. Many feel adding the use of the hotel is not a problem. What is of greatest concern with a Zone change, is how Palisades may be protected against over-development. A community meeting will be held on Sunday, October 21, 4:00 pm, at the Palisades Community Center to update everyone on new information and the status of the request for a zone change, prior to the Town Board meeting.
The Town Board meeting will be held Tuesday, October 23, 8:05 pm at Town Hall, 26 Orangeburg Road in Orangeburg. The Town Board is receiving comments and concerns e-mailed to Supervisor Chris Day: cday@orangetown.com.