Jehovah's Witnesses to Build Massive Production Center
Nov 2019 - Issue 247
The Watchtower Bible and Tract Society has announced plans to build a massive audio-visual production center on their 155 Sterling Mine Road property, which consists of 242 acres in Ramapo and seven acres in the Town of Tuxedo.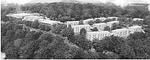 The new 1.5 million-square-foot complex would merge the Jehovah's Witnesses' disparate media production offices near the hamlet of Wallkill and in the Town of Tuxedo and Patterson among other locations, and would be almost as big as the Jehovah's Witnesses' 1.6-million- square-foot headquarters, located two miles away in the Town of Warwick.
Approximately 1,000 volunteers live and work at the Warwick headquarters. An additional 1,000 volunteers are expected to take up residency in the new center once it is finished. In addition to audio and visual equipment at the site, the Witnesses are also designing the new media center to be livable. It will have residences, a fitness center, underground parking and a visitor center for the public.
It could take five years for the complex to be completed. At the organization's October 5 annual meeting, it was announced that construction will begin in 2022 with completion the end of 2026.The project is currently in the environmental review phase following a July application submission to the Town of Ramapo Planning Board.
The Jehovah's Witnesses has 8.4 million members world- wide, 1.2 million of whom are in the U.S.