Lamont Doherty Public Lecture Series
Mar 2020 - Issue 248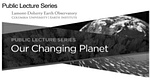 Lamont invites our community into its world of discovery with the third public lecture of Our Changing Planet public lecture series. The series connects our community with world-leading scientists currently performing globally significant research right here in our backyard. The lectures are designed to illuminate what changes in our planet may mean, how and why they are happening, and how a scientific understanding of events may help inform vital solutions.
On Thursday, April 2, Bioclimatologist Park Williams at Lamont-Doherty Earth Observatory will present Wild- fire, Mega Drought, and the Role of Humans. Williams' research focuses on the correlation between intensify- ing hot and dry spells, and the rapidly rising increase in forest fire risk. Williams examines the drivers of drought, and the role of human-induced climate change – particularly in relation to the health and resilience of forests. Williams was awarded funding from the Center for Climate and Life to study this topic.
A 2016 study co-authored by Williams and John Abatzoglou, a professor of geography at the University of Idaho, found that rising temperatures over the last 30 years have doubled the area affected by forest fires in the western United States. In 2019, three powerful wildfires in California, fueled by dry conditions and strong Santa Ana winds, were almost completely uncontained. The Camp Fire destroyed the town of Paradise, a community of about 26,000 people north of Sacramento, and near Los Angeles, the Woolsey and Hill fires scorched more than 7,000 acres, causing the evacuation of 88,000 homes. "No matter how hard we try, the fires are going to keep getting bigger, and the reason is clear," said Williams. "Climate is really running the show in terms of what burns. We should be getting ready for bigger fire-years than those familiar to previous generations."
The Wildfire, Mega Drought, and the Role of Humans lecture will be held in Lamont's Monell Auditorium at 7:00 pm with a reception before at 6:00 pm. RSVP's should be sent to events@LDEO.columbia.edu or via phone 845-365-8634.