Learn More About Women Gaining the Right to Vote
Oct 2020 - Issue 251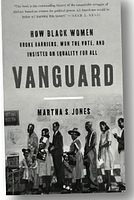 The centennial of the 19th Amendment has inspired the publication of a host of excellent books on the topic in recent years. Here are a few highlights, plus an older title worth a read:
Martha S. Jones. Vanguard: How Black Women Broke Barriers, Won the Vote, and Insisted on Equality for All. Basic Books, 2020. A brand-new history of African American women's oft-overlooked battle to win the vote for all.
Elaine Weiss. The Woman's Hour: The Great Fight to Win the Vote. Viking, 2018. A critically acclaimed chronicle of the final stages of the battle for women's suffrage in the United States.
Susan Ware. Why They Marched: Untold Stories of the Women who Fought for the Right to Vote. Belknap Press, 2019. Biographical sketches of the lesser known individuals involved in the women's suffrage movement.
Rebecca Traister. Good and Mad: The Revolutionary Power of Women's Anger. Simon & Schuster, 2018. A broader investigation into the power of women's anger to create change.
Isabelle Keating Savell. Ladies' Lib: How Rockland Women Got the Vote. Historical Society of Rockland County, 1979. A quick read on the local history of the women's suffrage movement.
FOR KIDS AND TEENS:
Votes for Women! American Suffragists and the Battle for the Ballot by Winifred Conkling (2018, ages 13-18);
Vote! Women's Fight for Access to the Ballot Box by Coral Celeste Frazer (2019, ages 13-18);
The Women's Hour (Adapted for Young Readers): Our Fight for the Right to Vote by Elaine Weiss (2020, ages 8-12);
How Women Won the Vote: Alice Paul, Lucy Burns, and Their Big Idea by Susan Campbell Bartoletti (2020, ages 8-12);
Lillian's Right to Vote by Jonah Winter (2015, ages 7-10);
Miss Paul and the President: The Creative Campaign for Women's Right to Vote by Dean Robbins (2016, ages 4-6).