Lomar Farms Is Throwing A Party You Don't Want to Miss
Oct 2022 - Issue 259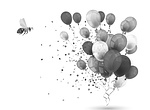 "This guy throws parties after parties," said Yvonna Kopacz-Wright, motioning to her husband, Brett Wright, during a Zoom interview from their Oak Tree Road home. "He throws the biggest party in Martha's Vineyard where there's a thousand people there. I love the idea of it, but he's really the closer."
But grand-scale entertaining is merely a side gig for Yvonna, an actress with a recurring role on "Law & Order: SVU," and Brett, a C-suite consultant and owner of Uptown Magazine who for eight years has lured end-of-summer revelers to Uptown After Dark on the Vineyard.
"We're first and foremost beekeepers," Yvonna said. "We call ourselves social entrepreneurs because we really want to show our community and the world how important bees are."
On Sunday, October 9, the Wrights will open their Lomar Farms — an apiary, barn and 200-year-old home on nearly six bucolic acres — with a Farm Day to benefit a building project for the Palisades Free Library. "The property was overgrown and we wanted to rehabilitate the land," said Yvonna, a new library trustee. "At the same time, we knew that part of rehabilitating the land would be getting bees. It just blossomed in more ways than one." Soon, the Wrights were bottling honey and dreaming up lusciously scented candles and soaps. The two-part Farm Day will begin at 10:00 am, with four hours of free "bee-friendly" activities like children's games, crafts and story times, a bake sale and a beekeeping class for kids and adults taught by Dana Harkrider, who tends the farm's hives with the Wrights. Library-branded T-shirts and tote bags as well as a commemorative candle created by Yvonna will be for sale. So will raffle tickets for a gift donated by the event's maker-vendors.
At 5:30 pm, the mood will turn festive for an al fresco evening of eating, drinking and dancing under the stars, with a wine bar by the Grape D'Vine, a farm-to-table fall harvest dinner by Mimi's Plate and flowers from Bluefield Farm, accompanied by strains of bossa nova from Philip Galinsky's Samba New York! Limited tickets, at $120 per person, are available at lomarfarms.com and palisadeslibrary.com
For the past several months, the library's director, Maria Gagliardi, and its board of trustees have been discussing the expansion of space for both children and teens with the architect Michael Esmay. "The children's room is buzzing with activity, and the circulation of the books is about 33 percent of the library's total circulation," Maria said. "And we're having more and more programs here at the library. We need more space to accommodate how people are using the library and to grow with that."
Kate Foster, the youth services librarian, elaborated: "We're looking forward to creating a welcoming, thoughtfully designed space where children and families can gather to play, learn and spend time together. For the teens, designing a comfortable space dedicated to their particular needs, both academic and social, is a priority." The design will also increase storage for local historical materials, spurred by an anonymous $10,000 donation and add an ADA-compliant bathroom.
Since moving to 19 Closter Road in 1953, the library has relied on the ingenuity of its members for support through activities like book fairs attended by Carson McCullers, Marianne Moore and Charles Addams and an infamous late-night performance by a new band named KISS. In 1996, the library raised $500,000 to increase its space3,767 square feet, though it remains the smallest in Rockland County.
Now the Wrights are bringing their own singular talents and creativity to the table."We really encourage people to buy tickets," Brett said. "It's going to a good cause." "And it'll be a great night," Yvonna interjected. "It's going to be so fun!"