A Look Inside IBM
Oct 2011 - Issue 214
In February of 2010 when a storm brought down dozens of old trees in the area knocking out electricity for many of us for three long days, a number of savvy locals headed to the IBM Center, taking advantage of their hotel facilities, which had the added bonus of a fitness center. Sure wish I had known about it then.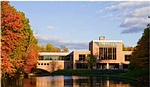 The IBM Center on Route 9W with its 106 acres of manicured grounds has been part of the Palisades landscape since 1989. While originally built as a conference and training center for IBM, it opened in the mid 90's to groups other than IBM and, in 2005, it started hosting social affairs such as weddings, bar and bat mitzvahs, rehearsal dinners, sweet sixteen parties and fundraisers. Today only 15% of its business is IBM-related.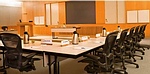 A wide assortment of corporations and institutions from Met Life to Columbia University hold meetings and conferences in the Center's extensive state-of-the-art classrooms. The day I toured the impressive structure there were meetings of the U.N. and US Tennis Association scheduled and an incoming group of Spring Valley high school grads for a reunion weekend. A crew from the soap opera, One Life to Live, was packing up from an outdoor shoot. The beginning of June, a Nyack Hospital fund raising road rally was held on the grounds and on October 2nd, there's an Alpine Car Show that features classic cars as well as Lamborghinis, Ferraris and the like with a gala to benefit Alpine NJ schools. A number of the Palisades Library's events have been held here as well.
The large IBM Center, built in the midst of a beautiful rolling landscape complete with pond and resident swan, is u-shaped. To the left are forty-three meeting rooms of varying sizes with small areas across the hall that look out to parkland for coffee breaks or are electronically equipped. There are also three amphitheatres (the largest can accommodate 96 people) - an impressive forty-eight thousand square feet of meeting space in all. Classrooms have wireless high-speed Internet access and touch screen AV control panels. A number have large screens. The main dining room on the lower level seats 350 people.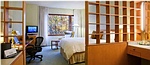 To the right, there's a 206-room hotel with Internet access in the rooms as well as six banquet halls. On the lower level a fitness center includes aerobic and strength training machines, three racquetball courts, a huge wave-less five-lane lap pool, two saunas and a whirlpool spa. On the first floor, the Blu Lounge provides a casual meeting place for those staying the night. The Centeroccasionally offers specials on its hotel rooms - this past summer rooms were 50% off the best available listed rate.
In the center of the building, connecting the two wings, a large comfortably furnished social room, occasionally used for gatherings, overlooks the pond and a large patio that is tented throughout the summer; it's an ideal spot for a cocktail reception. Outdoors, there are four lighted tennis courts and hiking trails that wind through the grounds.
For the past eleven years the management of this complex has been under the control of Dolce Hotels and Resorts. Founded in 1981 by Andy Dolce, a Valley Cottage resident, Andy developed his company into a leading property management organization. In 1993 the company expanded throughout the U.S. and Canada, managing centers owned by General Electric, the U.S. Postal Service, American Airlines, The Aspen Institute and Seaview Country Club and in Europe where today it operates six major hotels and resorts. One of the newest locations is Silverado Resort and Spa in Napa, California. In total, there are currently 27 hotels, resorts and conference centers under the company's control. A number of years ago, Dolce implemented a green policy challenging owners of its managed hotels to invest in sustainability programs.
In 2001 Dolce partnered with Soros Real Estate Investors, which committed $100 million to its development. In 2007, Broadreach Capital Partners purchased a majority share of Dolce. Steven Rudnitsky is company president and CEO. Andy Dolce is semi-retired but continues to work on development for the brand. His son Chris is General Manager. Company headquarters is located in Rockleigh, NJ.
For room reservations or conference facilities, call (845) 732-6000.