Meet Teresa Kenny, New Town Supervisor
Mar 2020 - Issue 248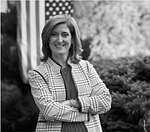 On January 7, 2020, Teresa Kenny was sworn in as Orangetown Supervisor, the first woman to hold this position in Rockland's 221-year history. While she has made it clear she does not want to be defined by this fact, it is noteworthy in this 100th anniversary year of women winning the right to vote.
Teresa and her two sisters, Marie and JoAnn, grew up in Rockland, daughters of a New York City police officer who is justly proud of Teresa's accomplishments. After graduating from Iona College, followed by St. John's Law School, Teresa started her career as an attorney for Con-Ed in New York City. When she and her husband Laurence, a native of Longford, Ireland, wanted to start a family, they decided a move to Pearl River was in order.
Shortly after the arrival of daughter Caitlin, now 25 and a lawyer, and 23-year-old son Brendan, Teresa established her own private firm specializing in real estate law, and became a part time Deputy Town Attorney for Orangetown. Through the years, Teresa has found an escape in running, and has completed an impressive eleven full marathons and a half ironman.
When Supervisor Chris Day announced he was not going to run for reelection, Teresa was asked to run and, after much thought, she accepted. Although a newcomer to the race, she was certainly qualified. As a Town Attorney she was a fixture in the running of the Town of Orangetown for over two decades, giving her first-hand knowledge of the many issues the Town Board has faced. "I believe my professional experience working as an attorney for Orangetown provided me with something unique to bring to the job," she says. "Serving under four supervisors over my 23 years, I have had an opportunity to see what works and what doesn't."
Teresa was the special guest at the annual Palisades Community Center meeting on February 9 of this year. There were 60 community members in attendance, and it was an opportunity for Teresa to learn about issues important to the residents of Palisades. She was an active listener, and below are some of the issues discussed.
• The Palisades Pool Club: Club members gave an impassioned plea to find a way of partnering with the town to either reduce the club's $50,000 tax burden, or to possibly make it into a town pool.
• HNA: Potential buyers interested in purchasing the Route 9W property for use other than as a conference center and hotel, as it is now zoned, are encouraged by Kenny's office to reach out to members of the Palisades community first. If a zone change is warranted, it must go before the Town Board where the public can get involved.
• NYS DOT/Route 9W: A new draft of safety improvements to the intersection should be available in a few months.
• Special Library Districts: The consolidation of the Palisades, Tappan and Orangeburg libraries is a complex issue. Representatives from the Palisades library will be available to answer questions at the Palisades Farmers' Market on March 7.
• Nepotism on Boards: Residents are concerned that people in positions to enforce codes and town regulations are relatives and friends of Town Board members. Palisades' representation in town government is weak, and anyone interested in representing Palisades on any board is encouraged to contact the Supervisor.
It was a productive meeting and a wonderful opportunity for Kenny to meet the community. As she was leaving, she remarked on how impressed she was with the turnout. She noted that our hamlet's unity and cohesiveness was refreshing, and encouraged residents of Palisades to attend Town Board meetings, which are alternating Tuesdays at 7:30pm. For more information visit the Town of Orangetown website for schedules, and for videos of past Town Board meetings.