In Memoriam — Geraldine Miras
Mar 2023 - Issue 262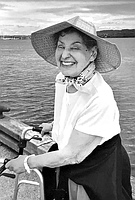 On December 14, 2022, Palisades lost a longtime friend. Gerri Miras was born in March,1927 and raised in the Bronx, the daughter of Lithuanian immigrants. After graduation from Hunter College, she taught arts in the NYC public school system, followed by service as an administrator. While living in Palisades, Gerri served for many years on the local school and library boards and presented several courses at The Learning Collaborative. Later she sponsored students at Rockland Community College and Tappan Zee High School who were seeking further education.
She enjoyed restaurant outings and, for many years, visited a local favorite with her friends every Friday. In her later years she looked forward to Saturday morning meetings with friends at the Palisades Community Center, to enjoy coffee and sticky buns, watching the children and chatting with acquaintances. The afternoons were devoted to Opera. After storms felled some trees close to her house, Gerri decided to move to the Esplanade at Palisades, where she lived until she quietly passed.
On March 5th, from 2:00 to 4:00 pm, a celebration of the life of Geraldine Miras will be held at the Palisades Community Center. More can be found on Gerri's life in the October 2022 issue of 10964 newsletter.

You will be missed, Gerri!