In Memoriam — Gust Babalis
Oct 2023 - Issue 263
Konstantinos (Gust) John Babalis passed away peacefully from natural causes at his home in Santa Monica, CA, on June 30, 2023, surrounded by family and his beloved dogs Django and Billie. Active right up until the end of his 98+ years, Gust's gentle departure was a testament to the man he was.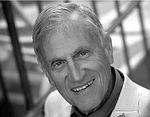 Born to Greek immigrant parents above his father's restaurant in the small steel town of Ambridge PA, Gust was the younger of two sons. His first language was Greek; he didn't begin to learn English until he was 6 years old. Having inherited his parents' work ethic, Gust excelled at school. He had a gift for making lasting friendships, a trait that would stay with him his entire life.
In 1943, with World War II raging in Europe, Gust, then 18 years old, was drafted into the United States Army. A good soldier and a native Greek speaker, Gust volunteered to be part of a special assignment in the Office of Strategic Service (O.S.S.), an organization which would later become the C.I.A. With a small group of eight other Greek–American soldiers, Gust parachuted at night behind enemy lines into the mountains of occupied Greece, where his unit met up with Greek partisans to carry out attacks against the Germans. The mission was top secret; had they been captured they would be treated not as soldiers, but as spies. Gust and his men lived in the mountains, assisted by the Greek resistance fighters, carrying out their attacks at night. Gust rarely spoke about his brave service and, when he did, he always generously gave credit to the soldiers he served with and their Greek counterparts, never forgetting the kindness and courage of the Greek villagers who helped them and, as a result, suffered greatly at the hands of the Germans.
Stationed in various places across Europe, Gust's love for people of different cultures never left him. Later in life he would go on to work for the American Field Services (A.F.S.), traveling the globe, helping place exchange students in countries all over the world.
After the war Gust attended the University of Pittsburgh on the GI bill. He later spent a year in Switzerland studying what would become his third fluent language, German. While there he rode his bicycle across Switzerland into Italy. He received his master's degree in language from Middlebury College.
Gust married fellow Ambridge resident, New York City Ballet dancer Paula Caputo, in 1956. Together they raised three daughters, Alexandra, Mia and Lara. In 1962 the family relocated to Snedens Landing, where Gust taught German at Nanuet High School for the next 25 years and served as president of the teachers union. He was also an amateur horticulturist and was renowned for his green thumb.
Gust loved Snedens Landing and the community. His kindness and unwavering devotion to his friends there is legend. It was with a heavy heart but an eye towards the future that Gust left Palisades at the age of 90 to come live with daughter Mia and her husband Paul in Santa Monica, where he lived out his days delighting in the California sunshine. Gust became a treasured presence in his Santa Monica apartment building and loved making new friends, while always cherishing his beloved friends back east. He was a gentle soul, a war hero, a wonderful father, grandfather, brother, father–in–law, uncle and friend.
Gust is survived by daughters Alexandra (Geoff), Mia (Paul), and Lara Mclean (Tom) and grandchildren Anja (Nic), Daniel (Hannah), Taylor (Grace) and great– granddaughter Greta Mae. He is loved dearly and will be missed by all.