In Memorium: Thomas Fallon
Oct 2021 - Issue 255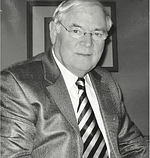 Thomas J. Fallon, of Palisades, NY, passed away at his home in the early morning of August 18, 2021, under the loving care of his family. Tom was born in County Leitrim, Ireland, in 1938, the eldest son of Thomas J. and Margaret Fallon of Rockwell House, Dromahair. Tom was always a lover of animals and a natural athlete. He was a jockey in his youth; he rode at the famed Ballsbridge, Dublin race-track; he made the Leitrim County Gaelic Football team, playing in the Croke Park Dublin All-Ireland Championship of 1956, to the great pride of his hometown. Tom continued to be an avid follower of sports, keeping tabs on the success of Irish athletes and cheering on the successes of his own children and grandchildren.
In 1957 he emigrated to New York. Tom proudly served in the United States Army and was stationed in Germany. Upon returning to America, he opened several pubs in the New York City area where both his hard-working personality, his infectiously joyful Irish accent and his friendly charisma made him a success wherever he went. Tom always enjoyed keeping busy. Even after he retired, he took pleasure in doing small acts of goodness for others and never stopped moving and never stopped meeting new people.
But Tom's greatest joy was always his family. He is survived by his adoring wife of 49 years, Bridget Fanning Fallon, and his three daughters, Angela Parrish (and her husband Christian and their three children, Fallon, Quinn and Rory), Caroline (and her husband Nicklaus) and his youngest, Dawn. Tom is the beloved brother of Eamon Fallon, of Highland Falls, New York, and Vivian Fallon, of Palmerstown Dublin and many cousins, nieces, nephews and countless friends across the world.
Tom Fallon was full of life, and he will remain an unforgettable force to all who were blessed to know him. He was a man who had a kind word for everyone, and to meet Tom was to immediately become his friend. He is sorely missed already.