In My Shoes
May 2019 - Issue 245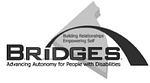 On March 7, on the grounds of HNA Palisades, BRiDGES hosted its annual dinner by honoring Kevin McCahill, the Assistant Superintendent of the Nanuet Union Free School District. McCahill was given a Leadership Award. Jill Warner, the CEO of Jawonio, was also honored with an Empowerment Award.
BRiDGES is a community-based, peer-driven, cross-disability, not-for-profit organization dedicated to advocacy and leadership on behalf of people with disabilities. Based in New City, its vision is to establish a barrier-free society and enhance the quality of life for people with disabilities. Its work is meaningful and has a direct impact on residents in our community. BRiDGES was founded in 1987 under the name Rockland Independent Living Center (RILC) and is one of 41 Independent Living Centers operating in New York State under the auspices of the New York State Education Department.
Honoree Kevin McCahill helped implement In My Shoes, an impactful program in the Nanuet schools where students are selected to live with a disability for an entire day. The students - and their friends - have to deal with the challenges associated with that disability. The program is intended to help students understand how far our society is from accommodating the daily challenges of living life with a disability. The hope is that this easily implementable program will be expanded so that more students will leave high school with a better understanding of individuals living with a disability.
Visit www.bridgesrc.org to learn more and become inspired.