Neighbors Helping Neighbors: The South Orangetown Central School District Food Pantry
Mar 2021 - Issue 253
We are one year into the Covid pandemic and some of our neighbors are struggling to pay for basic needs such as food, toothpaste and soap. In response, employees of the South Orangetown Central School District (SOCSD) have formed a food pantry available to any resident of Blauvelt, Orangeburg, Palisades, Piermont, Sparkill and Tappan; the towns and hamlets that comprise the district.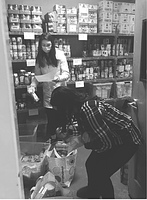 "We wanted to create a respectful and confidential way to give these families what they need…some for the first time," says Dr. Karen Tesik, Executive Director of Pupil Personnel Services for SOCSD, and the driving force behind the pantry.
In 2020-21 there were almost 2,800 students enrolled throughout the four schools in the district. About 16 percent of them utilized the free or reduced lunch program. Tesik was assisting 22 families in need of additional housing, food, or social services, but when Covid hit in March, she started getting calls and emails from dozens of families she'd never heard from before. By May, she was connected with 162 families.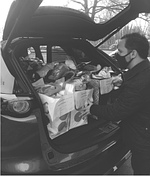 In September, Tesik and SOCSD Communications Co- ordinator Jen Citrolo organized an outreach to parents asking how best to help. Food assistance was at the top of the list and the SOCSD Food Pantry opened for its first distributions on November 24 at the Old Tappan Zee Elementary School on Route 9W.
One sunny Tuesday in January, a cheerful group of volunteers - all SOCSD employees - filled large bags and backpacks with canned goods, pasta, bread and basic toiletries. Some bags, discreetly identified by number, sat corralled and ready for pick up by the back door of the school. Backpacks - a less obvious delivery system - were for students to pick up on days when they have in-person classes. Still more bags were loaded into volunteers' cars for delivery to those unable to get to the pantry. "It's rewarding to ful-fill a need," says social worker Jessenia Cursio, one of the volunteers that day. "This is something we can fix immediately." As of January, 86 families were accessing the pantry each week.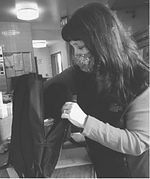 "I never expected I'd be delivering food to families in my district," says Tesik, "but that's the reality." One pick-up day Tesik encountered a woman slumped over her steering wheel in tears. When Tesik asked how she could help, the woman explained that if it weren't for the pantry, she wouldn't have been able to feed her kids that evening. Tesik says she was in tears herself by the end of their conversation. "I get emails and texts from families every day," says Tesik. "They are so very grateful."
Born and raised in Rockland County, Tesik says she's been astonished by the community's generosity. Food donations flow in via the pantry's Amazon Wish List, and from drop off locations at the Palisades Community Center or the Orangetown Town Hall. Monetary donations are used to purchase Shop Rite gift cards. "This is what this community does," says Tesik, "and I am beyond moved."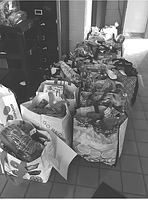 To sign up to access the pantry or to donate, go to: socsd.org/food-pantry/
Monetary donations and donations of Shop Rite gift cards can be sent to:
SOCSD Food Pantry
c/o Dr. Karen Tesik
South Orangetown Central School District 160 Van Wyck Road
Blauvelt, NY 10913