NOTHING BUT BLUE SKIES
Dec 2018 - Issue 243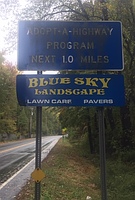 Have you ever noticed the forlorn Adopt-A-Highway sign posted on the southbound lane of Route 9W just beyond the bus shelter? According to the sign, Blue Sky Landscape maintains a one mile stretch of 9W through Palisades.
Curious as to why litter continues to accumulate unabated, I called New York State Department of Transportation Adopt-A-Highway Coordinator for Rockland County, Jim Murawski, to find out. According to Mr. Murawski, Blue Sky no longer services this section of 9W. In fact, 9W from Closter Road to the New Jersey state line is currently available for "adoption" by any business, organization or individual at no cost. In exchange for a two year renewable commitment to pick up litter four times a year along the road's shoulder, the DOT will erect a sign designating your participation in the program.
After acceptance into the pro- gram, and as quarterly cleanups are scheduled, DOT will provide trash bags and pick up of those bags from a designated central location. Additionally, a number of reflective safety vests will be provided.
For more detailed information go to www.ny.gov/programs/adopt-highway and to apply contact Jim Murawski directly at 845-634-4661.