October 2019 Bulletin Board
Oct 2019 - Issue 246
Columbia University Press has just released Plate Tectonics and Great Earthquakes by Dr. Lynn R. Sykes, a geophysicist and professor emeritus at Columbia University. Sykes, who played a key role in the birth of plate tectonics, brings an invaluable insider's perspective on the theory's development and its implications.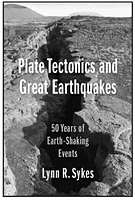 Throughout his long career Sykes has conducted revelatory research on earthquakes, pioneering the identification of seismic gaps—regions that have not ruptured in great earthquakes for a long time—and methods to estimate the possibility of quake recurrence. In this book he discusses the controversies involving earthquake prediction and their importance, especially in the wake of the giant 2011 Japanese earthquake and the accompanying Fukushima disaster.
New Palisades resident Dr. Dennis Doshin Tirch will hold weekly Zen sessions Thursdays and Sundays at the Palisades Community Center beginning in October. Would you like to learn Zen Buddhism meditation and more about a Zen path to personal awakening? For more information, e-mail Dennis at .
James Kimak, who created the Lamont Field Station mural, is having a solo show of his paintings at the Arts Suite NY Gallery in Piermont through October.
Valerie Galinsky, who is multilingual, launched BE FLUENT NOW last January to help students learn French or Italian. Her students achieve fluency while focusing on their personal interests and engaging in online conversations. For more information please go to www.befluentnow.com. You can reach Valerie at info@befluentnow.com.
Matthew Schwartz of Palisades, NY recently attended Advanced Space Academy at the U.S. Space and Rocket Center in Huntsville, Alabama.The weeklong educational program promotes science, technology, engineering and math (STEM) while training students, with hands-on activities and missions based on team- work, leadership and problem solving.
Everyone is invited to Columbia University's Lamont-Doherty Earth Observatory Open House on Saturday, October 5 in Palisades, NY—a day filled with fun and informative Earth science activities for parents, children and science enthusiasts of all ages. Exhibits are aimed at different ages and educational levels, from elementary school-age children to college students, citizen scientists and those well versed in the Earth sciences. For more information, please go to our website: openhouse.ldeo.columbia.edu or call our events line at 845-365-8998.
Local Actor in New TV Series: Palisadian Anna Baryshnikov will be featured in Dickinson, a coming of age comedy about the life and loves of poet Emily Dickinson. Baryshnikov plays Dickinson's younger sister Lavinia with Hailee Steinfeld as the young poet. Written by Alena Smith, the series will be available this fall as part of Apple's new streaming service Apple TV Plus.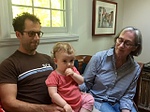 Jackie Vorenkamp came to live in Palisades almost sixteen years ago and for the past twelve years has served as writer, editor and, more recently, treasurer for 10964. At the end of August she moved to Baltimore to be closer to her son and his family. She has written many wonderful articles for our newsletter and made many friends during her time here – we will miss her.
Jackie writes, "Dear Readers, my profile of Harriet Hyams in this issue is my last contribution to the news- letter. I thank her and all of you from my heart for your willingness to be subjects of my stories. I will miss writing and editing for 10964 but I intend to start a blog about this next chapter as soon as I can figure out a title and you can follow me there. Keep your eye out."