OLar Noso Restaurant Review
Mar 2022 - Issue 257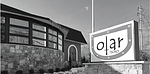 OLar Noso ("Our Home" in Galician) has left its cozy, pub-like cubbyhole in Piermont. Relocated to Northvale, New Jersey, it is a four-minute drive from Palisades. You can park easily in a big parking lot, and you might actually get a table because it's much bigger. Many things are unchanged from the old location: the menu is pretty much the same, payment is cash or check only, and the service, mostly provided by the owner's two sons, continues to be, shall we say, a bit rough-edged.
The new location,in a remodeled free-standing building, is expansive, has huge bay windows, is tiled in cold, bright,pale colors, decorated with goofy paintings, and so large…you can't blame them for expanding to capitalize on their success. The ambience is extremely high energy, and the crowd is loud and enthusiastic, predominantly 40-something guys who look like Joe Ro-gan, escorting young ladies in thigh-high boots.
Our main course, a daily special, was fabulous. Tiny, salty cockles decorated a substantial piece of delicate white fish, called merluza (hake) bathed in a garlicky green sauce and resting on a bed of saffron risotto. The tapas we ordered to start included a finely shaved roast-zucchini carpaccio that was an imaginative vegetarian option, seasoned with pine nuts and mint leaves, but the skewered pork roulades in spicy tomato sauce were much tougher than they should have been. No bread comes for free anywhere, anymore. One must pay $9 for the rosemary pizza dough bread, straight out of the famous oven. We used it to sop up the sauce from the skewered pork, and it was excellent. The bottle of pinot noir from Oregon (not Willamette) was a little bit too fruity for my taste, but was not bad.
Grouchy at the start of the evening because the service was so slow, we warmed to our dinner when it finally appeared, and by 9 pm as the crowd thinned out, our server relaxed so much that he dropped by our table to chat and drench our espressos with Sambuca. I was going to review the espresso too, but can only say that it tasted like Sambuca.
OLar Noso is well worth a visit. Call them up before 1:15 pm in the afternoon on the day you want to go. It's a scrupulously democratic reservation system; if you call before the other people, you get your table.

Olar Noso, 493 Tappan Road, Piermont, NY 07647 (845) 848-2207