Orangetown Launches Food Scrap Recycling
Mar 2022 - Issue 257
You heard it here—Orangetown now has an easy, clean way for residents to recycle household food scraps. It might just change our notion of what qualifies as garbage. Think about it—most of what gets tossed is food scraps: spoiled vegetables, plate scrapings, bones, peels, rinds, and occasionally, the muck from some weird jar in the back of the fridge. With a food scrap recycling program, that organic material is composted into nutrient-rich fertilizer and returned to the earth. So waste is no longer waste. It's soil. That change of mindset is a first step towards reducing the amount of waste we generate.
Orangetown's food scrap recycling program is modeled on an initiative launched five years ago by Westchester's Scarsdale Sustainability Committee. Started with a single drop-off location in Scarsdale and a lot of community outreach, the program is now a runaway success with over 25 Westchester municipalities collecting their food scraps and recycling them into fertilizer. "We started it to be a model for all other counties in the region," says Ron Schulhof, co-chair of the Scarsdale committee. "One town in a new area starts it, and then it just starts to spread."
When members of Rockland Composters, a group of volunteers in Orangetown and Clarkstown, were looking for ways to reduce Rockland's waste stream, they contacted Schulhof and his fellow co-chair Michelle Sterling for guidance. After much research on budgets and logistics, Rockland Composters presented the plan to Orangetown. Town Supervisor Teresa Kenny and Superintendent of Highways James Dean understood the economics; less garbage means less money spent on trucking Orangetown's waste 360 miles to a landfill in Ontario County. When Kenny asked Rockland Green, Orangetown's recycling management company, to help set up the program, executive director Gerry Damiani enthusiastically agreed and Orangetown became the first town in Rockland County to adopt the program.
"That's our mission," says Damiani, "to reduce the amount of waste Rockland residents generate. We're always looking for economically viable alternative waste disposal models."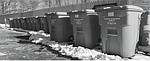 Every town resident can participate. A kit with a small bin, a larger bin, and special bags, can be purchased online for $19 and picked up at the Orangetown Highway Department (the former drive-in theater at 119 NY-303). You can use your own bins, but because the bags are coated with cellulose specifically designed for Rockland Green's unique composting process, they are the ONLY bags that can be used. The bags are free and can be picked up at the highway department.
Any organic matter is acceptable but no plastics, metal, paper towels or pet waste can be included. Be sure to remove anything non-bio-degradable such as rubber bands, stickers, twist ties, and staples from tea bags. Filled bags are dropped off in specially-marked bins behind the highway department. Food scraps are carted to Rockland Green's Hillburn facility, mixed with (believe it or not) sewage sludge, and presto, in about six weeks, it's marketable fertilizer. "We call it black gold," says Damiani.
Collecting household food scraps may seem like a small fix for a global waste disposal problem, but it makes a difference. According to Schulhof and Sterling, municipalities in Westchester generate about 50 tons of food scraps a month and participation continues to grow. "It really makes you become aware of food waste," says Kelly Rames, a member of Rockland Composters and an early adopter of the program. Keeping food scraps out of landfills is also surprisingly empowering. "You can't fly to Brazil and hug a tree to keep it from getting chopped down," says Sterling, "but you can get a bin."
To buy a kit and get more details about the program go to orangetown.com/orangetown-food-scrap-recycling-program/ For advice on how to start a food scrap recycling program contact Ron Schulhof and Michelle Sterling at composting@scarsdale.com