Palisades Community Center News: December 2021
Dec 2021 - Issue 256
Palisades Community Center
675 Oak Tree Road Palisades, NY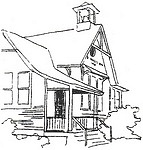 Your friends at the Palisades Community Center wish you and your family continued health and very happy holidays.
Are you new to the area? Welcome! And to those who do not yet receive our e-blasts, we invite you to e-mail us at PCC@palisadesny.com to receive Palisades alerts and event information.
THANK YOU! THANK YOU!
During this season of thankfulness, we thank all those who have supported the PCC's restoration efforts through membership and financial and estate item donations.
Thank you, as well, to all those who lent-a-hand this year:
Blythe Anderson, Lisa Argento, Neil Balm, Cassandra Bartels, Larry & Nancy Bucciarelli, Omiira Cellona, Marco Jo Clate, Jen Citrola, Linda & Curt Epstein, Paula Evans, Lyn Fowler, Joyce Gavin, Annie Gerard, Steve Kelman and the Woodpile Band, Don Milonie, Susan, Greg and Christopher Nemesdy, Milbry Polk, Ralph Olsen, Liz & Henry Ottley, Katey Plotkin, Elizabeth Quinn, Rich Rasmussen, Janet Riccobono, Paul Riccobono, Michael Tersigni and David Palahek, Cellen Wolk, Shelby Yamin and the next generation… Arielle & Averie Celona, Lulu & Benji Dickey, Owen & Eric Epstein, Tommy Fowler, Hanna Frasca, Vienna & Ellis Guzewich, Scarlet Ottley, Bella & Nina Vasquez, Wyatt & Jude White And the continuing efforts of the PCC Board to preserve and protect this very special building: Michele Balm, Sabelle Frasca, Karen Godgart, Leo Keegan, Carol Knudson, Jeff Levine, Sunny Park, and Lynne Sandhaus and Eileen Larkin.
Annual FAMILY HOLIDAY PORTRAITS
Sunday, December 5 10:00am-12:00pm $60 per family
Calling all Families, Loved ones and Pets
Palisades photographer Linda Epstein will once again take your photo outside, then e-mail you a link to download them to share or print however you prefer. Slots fill up fast, so e-mail us to set-up an appointment:
CC@palisadesny.com To view Linda's work, visit her website at www.lindaepsteinphotography.com
PALISADES FARM STAND and MAKERS MARKET
Saturdays 9:00 am-1:00 pm
Watch for e-mails about how we will bring the farms to you this winter for the 14th year beginning in January. Let's hope for a mild winter! We know you like to take a Saturday stroll and fill your bags with local veggies and Balthazar breads.
Thanks to Linda a portion of the fee will be donated to the PCC Restoration Campaign.
CHARITY
We continue to collect for:
- SOCSD food pantry: Non-perishable foods
- Hi Tor Animal Shelter: Old towels, bedding, and pet food
- Martin Luther King Jr. Center: Gently worn, clean coats and clothing for all ages
Drop them off on our porch anytime.
Board members:
Carol Baxter, President, Michele Balm, VP, Sunny Park, Secretary, Carol Knudson,, Treasurer, Sabelle Frasca, Leo Keegan, Karen Godgart, Jeff Levine, Lynne Sandhaus
Rental Coordinator:
Eileen Larkin ileenog@aol.com
Website: www.palisadescc.org