Palisades Community Center News: December 2022
Dec 2022 - Issue 260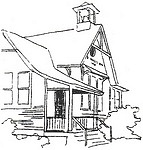 675 Oak Tree Road Palisades, New York
Your friends at the Palisades Community Center wish you and your family continued health and very happy holidays!

Are you new to the area? Welcome! And to those who do not yet receive our e-blasts, we invite you to e-mail us at PCC@palisadesny.com to receive Palisades alerts and PCC event information
HOLIDAY GIFT BAZAAR
Saturday, December 10 12:00 to 6:00PM
Join us for last-minute!shopping for all your loved ones.
Crafts by local artisans, Vintage and Antiques, Amaryllis!bulbs, and more!
Kid's Gift Workshop
Kids! We have a special, secret shop just for you to buy or create a gift for mom, dad,!and family, and where you can gift wrap it, too!
Thank you to everyone who came to our Halloween Haunted House Party
Special thanks to the Two Ghouls Susan Nemesdy and Sabelle Frasca, who created a fabulous, spooky night and the PCC Board, their families, and teens who ran the festivities.
See you next year!
GIVING OPPORTUNITIES
We continue to collect:
SOCSD FOOD PANTRY
Non-perishable foods
HI TOR ANIMAL SHELTER
Old towels, bedding, and pet food
MARTIN LUTHER KING JR. CENTER
Gently worn, clean coats, warm sweaters, clothing, winter accessories!for all ages, AND NEW unwrapped toys.
Drop off on our porch anytime.
Thanks to your membership, the "old school house" is going strong!
Join us and become a 2023 Member.
Visit our website and download our membership form at:
membership-form.html
The Palisades Community Center, INC is a 501 (c)(3) not-for-profit organization.
Board members
Carol Baxter, President
Michele Balm, VP
MarcoJo Clate, Secretary
Carol Knudson, Treasurer
Sabelle Frasca
Leo Keegan
Erin Mullahy
Sunny Park
Rental Coordinator
Eileen Larkin
ileenog@aol.com
Website
www.palisadescc.org
PCC@p(alisadesny.com
Instagram:
@palisadescommunitycenterny