Palisades Community Center News: March, 2018
Mar 2018 - Issue 240
PALISADES COMMUNITY CENTER
675 Oak Tree Road Palisades, NY

PALISADES WINTER FARMERS' MARKET
Saturdays 9:00 am - 2:00 pm
Not every community can say they have their very own Farmers' Market. For the 10th year, we bring the farms, directly to you! In addition, we offer a variety of artisanal specialty items, bakery and Balthazar Breads.
IF YOU HAVEN'T BEEN YET, STOP BY!!!!
Market ends March 31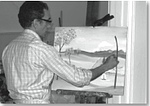 JOIN US AT OUR PAINT & SIP FUNDRAISER
Palisades Folk Art artist Rubens Teles is back!
Come enjoy a glass of wine and create a Folk Art painting in the company of your friends and neighbors. Friday, March 23, 7:00 pm - 9:00 pm
$35 / $30 PCC members & seniors (Includes art supplies and refreshments)
SEATING IS LIMITED For tickets e-mail: pcc@palisadesny.com
You think you can't paint? We'll prove you wrong!
Rubens led two very popular Folk Art painting workshops at the PCC where we were all amazed at our finished works of art. It's easy, relaxing and very rewarding.
Rubens Teles and his partner James Adams of Teles & Adams are sought after for their decorative painting and interior design services. To learn more about them, visit their website at www.telesadams.com
BOOK & EPHEMERA FAIR: Celebrating the World of Paper
Saturday, April 14, 9:00 am - 3:00 pm
Featuring books, posters, postcards, magazines, comics, collage, art, etc.
GOT THINGS TO SELL?
E-mail us for more information: pcc@palisadesny.com
PEOPLE to PEOPLE CLOTHING & FOOD DRIVE
We will collect spring & summer clothing for infants-adults and non-perishable food.
HI-TOR ANIMAL SHELTER
Pet food, old towels, blankets and newspapers!
DONATION DROP-OFF APRIL 7-15 BETWEEN 10:00 AM - 6:00 PM
PALISADES COMMUNITY CENTER Board Members

Carol Baxter, President
Alice Buchanan, V. P.
C. Andrew Nelson, Treasurer
Carol Knudson, Secretary
Michele Balm
Keith Buterbaugh
Leo Keegan
Jeffrey Levine
Lynne Sandhaus
Honorary Board member: Virginia McCauley
Rental Coordinator: Eileen Larkin,
359-6589, Ileenog@aol.com
PCC Mailing Address:
PO Box 222 Palisades, N.Y. 10964
Palisades Community Center:
www.Palisadescc.org
Palisades Farmers' Market:
www.Palisadesfm.org

To sign up for Palisades E-mail Alerts and Palisades Community Center news: PCC@Palisadesny.com
JOIN US! BECOME A 2018 MEMBER OF THE PCC!
Your memberships and donations enable us to make critical repairs and renovations to this schoolhouse built in 1870 and to support our programing. We are happy to report that we will be starting our long-awaited Bathroom and Kitchen Renovation Project. Thank you for your support!
For membership info: PCC@palisadesny.com