PALISADES COMMUNITY CENTER NEWS, March 2020
Mar 2020 - Issue 248
PALISADES COMMUNITY CENTER. 675 Oak Tree Road Palisades, NY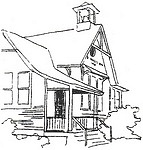 We extend wishes of gratitude to Keith Buterbaugh for his years of service on the PCC Board. He was especially helpful with all our restoration projects. We are excited to welcome Sabelle Frasca onto the Board. We look forward to working with you!
The Palisades Schoolhouse is turning 150! 1870-2020.
Mark your calendar for an old-fashioned Birthday Party/Plant Sale/History Day.
Saturday, May 9, 2020.
DID YOU OR A FAMILY MEMBER GO TO SCHOOL AT THE PALISADES SCHOOLHOUSE? (currently the Palisades Community Center).
We are collecting stories, photos and memories for a presentation. Please e-mail us at pcc@palisadesny.com by March 31.
PALISADES FARMERS MARKET.
Saturdays through March 28 9:00am to 2:00pm
Join us at these two lectures/mini-workshops:
Sunday, March 15 4:30pm. Personality and Politics: The Case of Authoritarianism.
By Professor James Uleman.

AND Sunday, April 5 4:30pm Using mindfulness, compassion and acceptance to overcome stress and anxiety. By Dennis Tirch, PhD
Annual BIG EARTH DAY TAG SALE.
April 25 and 26, 9:00am to 3:00pm
REDUCE REUSE RECYCLE.
You've GOT stuff that needs a home. People NEED stuff at a good price. This is where the two MEET!.
E-mail us to reserve a table: PCC@palisadesny.com
PEOPLE to PEOPLE CLOTHING & FOOD DRIVE.
We will collect spring & summer clothing for infants-adults and non-perishable food.
ANDHI-TOR ANIMAL SHELTER DRIVE.
Pet food and toys, old towels, blankets and newspapers!
Donations drop off for both April 25-May 3 between 10:00am to 6:00pm
PALISADES CLEAN-UP.
Saturday, April 25 9:00am to 1:00pm.
Thanks to Carol Knudson, again, we are partnering with Keep Rockland Beautiful. Come by, grab bags, etc and head out to clean up our beautiful Palisades streets and woodlands. Wear a bright shirt and don't forget the tick spray. R.S.V.P recommended.
For Tag Sale table, Clean-Up registration, Donations, or Volunteering,
e-mail us at PCC@palisadesny.com
Palisades Community Center Board members:
Carol Baxter, President. Michele Balm, V.P.
Secretary
Carol Knudson, Treasurer
Sabelle Frasca
Karen Godgart
Leo Keegan
Jeffrey Levine
Sunny Park. Lynne Sandhaus
Honorary Board member:
Virginia McCauley
Rental Coordinator:
Eileen Larkin. 359-6589
Ileenog@aol.com
PCC Mailing Address:
PO Box 222. Palisades, N.Y. 10964
Join Us! BECOME A 2020 MEMBER OF THE PCC!. Your membership and donations enable us to make critical repairs and renovations to our schoolhouse built in 1870 and to support our programing.
For membership info:
PCC@palisadesny.com