Palisades Community Center News: March 2022
Mar 2022 - Issue 257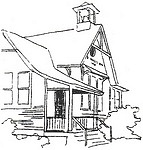 Your friends at the Palisades Community Center wish you and your family continued good health. Are you new to the area? Welcome! We invite those who do not receive our e-blasts to e-mail us at PCC@palisadesny.com to receive Palisades alerts and event information.
Many thanks to Lynne Sandhaus for her years of service to the PCC as she steps off the Board. We will miss you, Lynne!
We welcome Erin Mullahy to the Board. Erin, her husband, Darran, and two sons have lived in Palisades since 2011. Erin recently published her first novel Put it to Rest. She was born and raised in Rugby, North Dakota, a town of less than 3,000. Her parents were members of their local Jaycee and she remembers the positive impact and sense of community their volunteer work brought to the town and to her family. Erin looks forward to bringing this same energy to the PCC.
Welcome aboard, Erin!
Annual EARTH DAY COMMUNITY SALE
Saturday, April 23
9:00 am- 3:00 pm
Clean out your closets, set up a table and find a new home (and some cash!) for your beloved items, OR Donate your QUALITY items to the PCC and leave the selling to us.
Contact Eileen to rent a table or donate: ileenog@aol.com
PALISADES CLEAN-UP
Saturday, April 23
9:00 am-12:00 pm
Again, we will partner with Keep Rockland Beautiful to clean up our neighborhoods. Advance registration is preferred but walk-ins are welcome! Contact Carol Knudson to sign up in advance or for additional information: <aiyana@optonline.net)
PALISADES FARM STAND
Saturdays 9:00 am-1:00 pm

For the 14th year, we continue to bring you farm fresh vegetables and other local food selections. Take a stroll over and fill your bags with fresh veggies, Balthazar breads, honey and more.
MUSIC on the FRONT LAWN

When the weather gets warmer, we will continue to bring you music in the open air on Sundays at 4:00 pm. Watch for our e-blast up-dates for schedule.
CHARITY
On-going

The outpouring of donations from our community for those in-need has been spectacular. We will continue to accept:
Non-perishable food and toiletries
Old towels, bedding, newspapers, and pet food
Clean, gently used clothing for all ages
EW toiletries and school/art supplies
Drop them off on our porch anytime.
Board members
Carol Baxter, President Michele Balm, VP Sunny Park, Secretary Carol Knudson, Treasurer Sabelle Frasca, Leo Keegan, Karen Godgart, Jeff Levine, Erin Mullahy.
Rental Coordinator: Eileen Larkin 845.359.6589
Websites:
www.palisadesfm.org
www.palisadescc.org
Palisades Schoolhouse 152 years 1870-2022
Palisades Community Center 52 years 1970-2022