Palisades Community Center News: May, 2018
May 2018 - Issue 241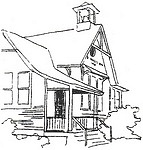 Thank You to Our Community!
Thank you to all who have become members of the PCC, have given financial donations and attended our events this year. Since volunteers operate all PCC activities, 100% of donations and membership dollars go directly to the up keep and restoration of this historic building. Thank you!
Thank you to all who donated items to our Antiques Sales and our Annual Winter & Spring Clothing drive for People to People and pet supplies for Hi-Tor Animal Shelter. We give a heartfelt thank you to our Palisades teens who volunteered at the Palisades Farmers' Market. Cassie Bartels who, regardless of snow or a late Friday night, showed up at 8:00a.m. on Saturday mornings to work the Balthazar table and teen Aaron Kalotkin who was masterful at clean-up. Thank you to Chris Chin, Annie Gerard and their karate class for covering the floor and putting out the tables for the market each week. Kris Haberman and Ernie De la Torre for sharing their baby chicks and Claudia Uccellani and Nancy Jagelka for kids story hour and crafts. Thank you to Linda Epstein and David Wolk for being our photographers at our Family Portrait day and David for sharing his graphic artist talents. Thank you to the PCC Board members whose efforts made our Farmers' Markets and special events possible. Cellen Wolk who spent hours helping to organize the Plant Sale. Tommy and David Fowler for snow shoveling. Larry Bucciarelli and Rich Rasmussen for plowing. Henry Ottley, Larry Bucciarelli and Susan Nemsdy for their valuable assistance with our kitchen/bathroom renovation. As always, appreciation to Susan Nemesdy, Eileen Larkin and Joyce Gavin. We can't do it without you all!
PALISADES PLANT SALE SATURDAY, MAY 12 10:00 am - 2:00 pm
Featuring plants from the gardens of our community and local nurseries
Gardens run amok? Time to divide? Got too many plants? We'll take them! Pot up your plants, label them and bring them to the PCC. May 7-11 10:00 am - 6:00 pm All plant types and shrubs are welcome. If you need help digging, e-mail us at PCC@palisadesny.com We are also accepting donated garden and cookbooks. Fundraiser for the Palisades Community Center and Palisades Free Library
Annual June Antiques & Collectibles Sale
Friday, June 15 6:00 pm - 9:00 pm, Saturday, June 16 9:00 am - 3:00 pm
We will be accepting quality donations June 10-15. Contact Eileen to rent a table: 845-359-6589 or ileenog@aol.com
Palisades Dinner
So many ask if we will be holding our al fresco dinner. We would love to, but we need many volunteers. If you would be willing to work an hour or two, let us know! PCC@Palisadesny.com
More events are coming. Watch for our e-mails! Join our e-mail list pcc@palisadesny.com
Board members: Carol Baxter, President Alice Buchanan. V.P Carol Knudson, Secretary Michele Balm Keith Buterbaugh Leo Keegan Jeffrey Levine Andrew Nelson Lynne Sandhaus Honorary Board member: Virginia McCauley
Rental Coordinator: Eileen Larkin 359-6589, Ileenog@aol.com Address: 675 Oak Tree Road PO Box 222 Palisades, NY 10964 Join our e-mail list! PCC@palisadesny.com Website: www.Palisadescc.org
Become a 2018 PCC member!
$50 Family $35 Individual $20 Senior Citizen
Financial donations to the Restoration Campaign are greatly appreciated!
Checks payable to: Palisades Community Center PO Box 222 Palisades, NY 10964