PALISADES COMMUNITY CENTER NEWS, MAY 2019
May 2019 - Issue 245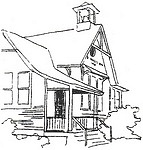 Thank You to our Community!
Thank you to all who have become members of the PCC, have given financial donations and attended our events this year. Since Board members and volunteers operate all PCC activities, 100 percent of donations and membership dollars go directly to the upkeep and restoration of this historic building. Thank you!
Thank you to the PCC Board members whose efforts made our Farmers' Markets and special events possible. As we end our 11th season of the Palisades Farmers' Market, thank you to our regular volunteers who helped keep it running: Cassandra Bartels, Lulu and Benji Dickey, Tommy Fowler, and Katey Plotkin. To Chris Chin, Annie Gerard, and their karate class, for setting the market up each week. To Nancy Jagelka for kid's crafts, Linda Epstein, our Family Portrait Day photographer, David Wolk for his graphic arts talent, Susan Nemesdy for market clean up, Tommy Fowler for snow shoveling, and Larry Bucciarelli and Rich Rasmussen for plowing. Thank you to all who donated items to our Antiques and Tag Sales, to our Annual Winter & Spring Clothing drive for People to People, and pet supplies for Hi-Tor Animal Shelter.
Our Kitchen renovation is almost done!
It's a dream come true! Thank you to David Palachek and Michael Tersigni for answering the call and patiently drawing many versions of the site plan. And thank you to Larry Bucciarelli, Susan Nemesdy, Henry Ottley, and Paul Riccobono who enthusiastically donated their time and expertise to the kitchen construction and installation. We are grateful to you all!
As always, appreciation to Susan Nemesdy, Eileen Larkin and Joyce Gavin
We can't do it without you all!
PALISADES PLANT SALE SATURDAY, MAY 11
10:00 a.m. to 2:00 p.m.
Featuring plants from the gardens of our community and local nurseries Gardens run amok? Got too many plants? Time to divide? We'll take them! Pot up your plants, label them and bring them to the PCC. May 6-10 10:00 a.m. to 6:00 p.m. All plant types and shrubs are welcome.
If you need help digging or can volunteer at the sale, e-mail us at PCC@palisadesny.com We are also accepting donations of garden books, pottery and tools.
The Plant Sale is a collaborative effort by Hey Hoe Garden Design, Palisades Community Center and the Palisades Free Library
Palisades Community Concert Series
Sunday, May 12, 4:00 p.m.
Palisadian Shelby Yamin curates this series whose mission is to make fine music accessible by bringing professional musicians to our community.
Annual June Antiques & Collectibles Sale
Date TBA
We will be accepting quality donations. Contact Eileen to rent a table: ileenog@aol.com
Board members
Carol Baxter, President Carol Knudson, Secretary Andrew Nelson, Treasurer Michele Balm, Keith Buterbaugh, Leo Keegan, Jeffrey Levine, Lynne Sandhaus, Honorary Board member: Virginia McCauley
Rental Coordinator:
Eileen Larkin 359-6589 Ileenog@aol.com
Address:
675 Oak Tree Road PO Box 222 Palisades, NY 10964
Join our e-mail list!
PCC@palisadesny.com
Website
www.Palisadescc.org
Become a 2019 PCC member!
$50 Family
$35 Individual
$20 Senior Citizen

Financial donations to the Restoration Campaign are greatly appreciated!
Checks payable to:
Palisades Community Center
PO Box 222 Palisades, NY 10964
More events are coming. Watch for our e-mails!