Palisades Community Center News: May 2021
May 2021 - Issue 254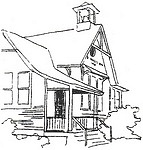 Palisades Community Center Celebrating 150 years! 1870-2020
We are still collecting memories of the "Old School." Did you or a family member go to school there? Do you have photos? Memories or stories to tell? Please e-mail us at: PCC@palisadesny.com Help us document this period of our Palisades history!
MUSIC ON THE LAWN Series Sundays at 4:00 pm
May 9 - Mother's Day Concert with Shelby Yamin and Wendy Stern
May 16 - Hudson Woodpile Band May 23 - BridgeMusik (featuring local professional musicians from NYC orchestras)
More concerts scheduled into June. Watch for our e-mails!
Suggested $10 donation goes directly to the musicians. Bring your lawn chair.
COVID protocol: Social distancing and masks.
MOTHER'S DAY SALES AT THE PALISADES FARM STAND
Craft & Gift Sale
Saturday, May 1 9:00 am - 3:00 pm

Annual Plant & Gift Sale
Saturday, May 8 9:00 am - 2:00 pm
Be a part of the fun! Volunteers are needed for our plant sale. Also, we are accepting donations of plants from your garden. E-mail: PCC@palisadesny.com
Social distancing and masks required.
Palisades Farm Stand will be open through May
We will continue to bring you fresh local vegetables, Balthazar Bakery items and more every Saturday 9:00 am -1:00 pm.
For the 13TH year, every Wednesday morning through November, Cindy Jones drops off bags brimming with organic, heirloom vegetables. To order and for more info, e-mail PCC@palisadesny.com
CHARITABLE COLLECTIONS
Yes, we are still collecting! Leave on our porch anytime:
SOCSD Food Pantry:
Non-perishable food
Hi Tor Animal Shelter:
Old linens, towels, and pet food. No newspapers.
Martin Luther King Jr Center:
Clean and gently used spring and summer clothing for all ages.
Please label your bags. Thank you for your generosity!
Volunteer Thank You's!
Nancy and Larry Bucciarelli, Carol Knudson, Owen and Curt Epstein, Susan and Gregory Nemesdy, Katey Plotkin, Rich Rasmussen, Janet Riccobono, Milbry Polk, Jackie Martin, Tommy Fowler, Cellen Wolk, Bella and Nina Vasquez
Palisades Community Center
Board members: Carol Baxter, President
Michele Balm, V.P.
Carol Knudson, Treasurer
Sunny Park, Secretary
Sabelle Frasca Karen Godgart
Leo Keegan
Jeffrey Levine
Lynne Sandhaus
Honorary Board member: Virginia McCauley
Rental Coordinator:
Eileen Larkin 359-6589 Ileenog@aol.com
Address: 675 Oak Tree Road PO Box 222 Palisades, NY 10964
Website: www.palisadescc.org
It's never too late to become a 2021 PCC member!
$50 Family $35 Individual $20 Senior Citizen
Financial donations to the Restoration Campaign are greatly appreciated!
Checks payable to: Palisades Community Center. PO Box 222 Palisades, NY 10964
Join our e-mail list to receive community alerts
and PCC updates PCC@palisadesny.com