PALISADES COMMUNITY CENTER NEWS, OCTOBER 2019
Oct 2019 - Issue 246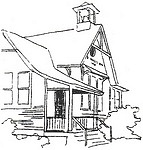 675 Oak Tree Road
We are happy to announce our new board members Sunny Park and Karen Godgart. We thank Alice Buchanan, Vice President and Andrew Nelson, Treasurer for their many years of dedicated service to the PCC. Welcome aboard Sunny and Karen!
Come MEET THE CANDIDATES running for Orangetown Town Supervisor, Teresa Kenny and Thom Kleiner, Sunday, October 6 4:00-5:00pm. Come learn about the candidates and vote with confidence on Tuesday, November 5
COMMUNITY ESTATE SALE
Saturday & Sunday October 19 & 20 9:00am-3:00pm. Eclectic, vintage, unique and very useful items for you and your home. Donations for our PCC table are gratefully accepted. Interested vendors, e-mail Eileen Larkin at ileenog@aol.com
SCARECROWS & PUMPKINS Our family event returns for its 11th year! Sunday, October 27 Noon-2:00pm. Create a scarecrow masterpiece to live on our front lawn and carve or paint that messy pumpkin with us!
HOLIDAY CRAFT BAZAAR
Saturday, November 9, 10:00am - 4:00pm.
Unique and beautiful crafts in time for holiday gift giving by artisan crafters of the Hudson Valley.
PALISADES CONCERT SERIES RETURNS
Sunday, November TBA 4:00pm
In its second year, Palisades resident Shelby Yamin curates lovely programs of music by professional classical musicians. Suggested donation $10. For further information, e-mail PCC@palisadesny.com
Annual Winter Coat & Pet Supply Drive Drop off:
October 20 – 27 9:00am -6:00pm
Coats, sweaters, boots, scarves, etc. for ALL ages and non-perishable food for People to People. Pet food, old towels, bedding and newspapers for Hi-Tor Animal Shelter. Thank you for helping to keep those in need warm this winter.
MANHATTAN SHORT Film Festival Returns!
You are a judge!
Saturday, October 5 7:00pm
Doors open at 6:30pm
Advance sale $20, PCC members $17, At the door $25. Includes refreshments.
10 short films under 15 minutes from 7 countries were selected from 1250 submissions from 70 countries. Filmgoers will decide the winning film by voting for their favorite short. Many previous films went on to be Oscar nominees and winners. This is a sellout event. Purchase your tickets early! PCC@PalisadesNY.com or www.brownpapertickets.com
Board members
Carol Baxter,
President Carol Knudson,
Secretary Michele Balm
Keith Buterbaugh
Leo Keegan
Karen Godgart
Jeff Levine
Sunny Park
Lynne Sandhaus
Honorary Board member:
Virginia McCauley
Rental Coordinator: Eileen Larkin
Ileenog@aol.com, 845.359.6589
Website: www.palisadescc.org
Visit our website for the fall class schedule
www.palisadescc.org