PALISADES COMMUNITY CENTER NEWS, October, 2020
Oct 2020 - Issue 251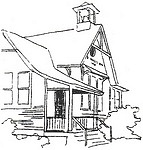 Your friends at the Palisades Community Center wish you and your family continued health.
We were so sad to learn of the passing of Virginia McCauley, 98. She loved the Palisades Schoolhouse and devoted almost 40 years to its restoration and success.
Are you new to the area? Welcome! And to those who do not yet receive our e-blasts, we invite you to e-mail us at PCC@palisadesny.com to receive Palisades alerts and event information.
Although we have canceled most of our fall events, we are still figuring out how to run a few safely. Watch for our e-mails for event updates.
CHAMBER MUSIC on the Front Lawn
October 4, 4:00-5:00 pm
Beautiful music outside in the fresh air. Bring a chair.
Mask and social distancing required. Donations accepted.
More info: pcc@palisadesny.com
PHONE A NEIGHBOR Since we have lost our ability to gather, many are feeling isolated and alone. Especially our senior citizens. If you know someone who is alone, check in on them. If you would like to be on our "Phone a Neighbor" list, to either MAKE or RECEIVE a call, e-mail us at PCC@palisadesny.com
We want to say hi!
Thank you to Cassandra Bartels for suggesting this.
Annual Winter Coat & Pet Supply Drive
Drop off on our porch: October 1 – 31 9:00am -6:00pm
PEOPLE TO PEOPLE:
Coats, sweaters, boots, scarves, etc. for all ages and non-perishable food

HI TOR ANIMAL SHELTER
Old towels and bedding, newspapers, and pet food
CENTER FOR SAFETY AND CHANGE:
Toiletries of all kinds, (shampoo, soap, toothpaste, perfume) and new underwear for women
Board members
Carol Baxter, President
Michele Balm, VP
Sunny Park, Secretary
Carol Knudson,
Treasurer Sabelle Frasca
Leo Keegan, Karen Godgart, Jeff Levine, Lynne Sandhaus,
Honorary Board member: Virginia McCauley
Rental Coordinator:
Eileen Larkin, Ileenog@aol.com, 845.359.6589
Website:
www.palisadescc.org
The Palisades Schoolhouse is Celebrating 150 years! 1870-2020.
The Palisades Community Center is Celebrating 50 years! 1970-2020
Join us as we celebrate the 150th anniversary of this schoolhouse!
2021 Membership: $50 Family $35 Individual $20 Senior Citizen
We continue to make necessary repairs to this 150-year old gem of a building! 100% of your additional donations are applied to our Restoration Campaign!
Please make checks payable to: Palisades Community Center P.O. Box 222 Palisades, N.Y. 10964
The Palisades Community Center, INC is a 501 (c)(3) not-for-profit organization.