Palisades Community Center News: October 2021
Oct 2021 - Issue 255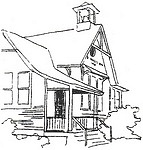 Palisades Community Center News
675 Oak Tree Road

Palisades Schoolhouse Celebrating 150 years! 1870-2020
Palisades Community Center Celebrating 50 years! 1970-2020
Board members:
Carol Baxter, President Michele Balm, VP Sunny Park, Secretary Carol Knudson, Treasurer Sabelle Frasca, Karen Godgart, Leo Keegan, Jeff Levine, Lynne Sandhaus, Honorary Board member: Virginia McCauley Rental Coordinator: Eileen Larkin Ileenog@aol.com 845.359.6589 Website: www.palisadescc.org
Your friends at the Palisades Community Center wish you and your family continued health. Are you new to the area? Welcome! And to those who do not yet receive our e-blasts, we invite you to e-mail us at PCC@palisadesny.com to receive Palisades alerts and event information.
Although we have canceled most of our fall events, we are still figuring out how to run a few safely, following all NYS COVID protocols Watch for our e-mails for event updates.
MANHATTAN SHORT Film Festival is back! Two showings:
Saturday, October 2 7:00 pm
Sunday, October 3 4:00 pm
24th annual international film festival featuring ten short films. Many previous films have gone on to become Academy Award nominees and winners. Two showings. Seating is limited.
For ticket information, visit our website www.palisadescc.org
All must have proof of vaccination.
Annual Winter Coat & Pet Supply Drive
Drop off on our porch anytime: October 1 – 31

MARTIN LUTHER KING JR. CENTER
Coats, sweaters, boots, scarves, etc. for all ages and non-perishable food
HI TOR ANIMAL SHELTER
Old towels, bedding, newspapers and pet food
CENTER FOR SAFETY AND CHANGE:
Toiletries (shampoo, soap, toothpaste, perfume, etc) and NEW underwear for women and children
SCARECROWS & PUMPKINS
Sunday, October 24 Noon-2:00 pm
Family Fun Day!
Create a scarecrow masterpiece on our lawn and carve a pumpkin to take home! Pumpkins available for purchase. More info: pcc@palisadesny.com