Palisades Community Center News: December, 2018
Dec 2018 - Issue 243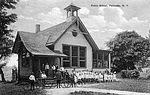 PALISADES INDOOR WINTER FARMERS' MARKET
returns for our 11th year! Saturday, December 8,
9:00 am-2:00 pm. We look forward to seeing you!
OUR KITCHEN RENOVATION IS FINALLY HAPENING!
We'll be starting construction after the holidays. If you have hammer and nail experience, or not, and want to help, e-mail us: PCC@palisadesny.com.
A heart-felt thank you to these people who lent-a-hand this fall: Sunny Park, Betsy Katz, Amanda Brand, Omiira Rohani, Joyce Gavin, Liz Baily, Carol Knudsen, Larry Bucciarelli, Paul Riccobono, Henry Ottley, Milbry Polk, Shelby Yamin, Bernadette Vero, Michele Balm, Susan Nemesdy and "Ethel," and teens: Cassie Bartels, Samantha Shanahan, Scarlet Ottley, and Gregory Nemesdy
HOLIDAY PORTRAIT DAY
at the Farmers' Market December 8 10am-1pm. Photographer Linda Epstein will be back to take professional photos of you, your spouse, your children, your family and your pets. $25 per couple, $30 per family
Reservations suggested but walk-ins are welcome! E-mail for info: PCC@palisadesny.com
PALISADES COMMUNITY CONCERT SERIES Sunday, December 9, 4:00 pm.
Curated by Palisadian Shelby Yamin
Come spend a lovely afternoon listening to Chamber music performed by local professional musicians. All ages welcome. By donation ($10 suggested).
18th Annual CHRISTMAS CAROLING & PIZZA PARTY
Saturday, December 22, 5:00pm sharp. Meet at 11 Horne Tooke Road. Sheet music is provided. Bring a flashlight. Carolers will sing thru the streets, then bring holiday cheer to Esplanade and Jawanio, and end at the PCC for a Pizza Party.
Thank you to Michele Balm and Bernadette Vero for bringing holiday spirit to Palisades for 18 years.
For further info: miepbalm@aol.com
Come with your families and friends!

BECOME A 2019 PCC MEMBER! Membership: $50 Family $35 Individual $20 Senior Citizen
Thanks to you we became a County Executive Historic Preservation Award winner! 100% of your additional donations are applied to our Restoration Campaign!
Palisades Community Center Board members:
Carol Baxter, President: C. Andrew Nelson, Treasurer: Carol Knudson, Secretary: Michele Balm, Keith Buterbaugh, Leo Keegan, Jeffrey Levine, Lynne Sandhaus
Honorary Board member: Dr. Virginia McCauley

Rental Coordinator: Eileen Larkin, 359-6589, Ileenog@aol.com
Mailing Address
PO Box 222
Palisades, N.Y. 10964
Join our e-mail list for schedule of events and Palisades alerts: PCC@palisadesny.com]
PCC Website: www.Palisadescc.org
Farmers' Market website: www.Palisadesfm.org