Palisades Free Library News: December 2022
Dec 2022 - Issue 260

PALISADES FREE LIBRARY
Member of the Ramapo Catskill Library System
19 Closter Road, Palisades, NY 10964
845-359-0136
www.palisadeslibrary.org
Board of Trustees: Marjorie Galen, President; Marty Nealon, Treasurer; Paul Riccobono, Vice President; Kathryn Shattuck, Secretary; Sarah Buterbaugh; Kris Haberman; Yvonna Kopacz; Library Director: Maria Gagliardi. The next board meeting is Wednesday, December 14 at 7:00 pm in person, at the library. All meetings are open to the public.
HOURS
Open Monday through Thursday, 11:00 am – 8:00 pm, Friday and Saturday from 11:00 am – 5:00 pm and Sunday from 1:00 – 5:00 pm. Closed Saturday, Decem-ber 24, Sunday, December 25, Sunday, January 1.
Winterfest is back! Saturday, December 3 from 1:00 pm - 6:00 pm
A family friendly winter marketplace at our historic library. Shop hand-made jewelry, vintage home goods and holiday items, woodcrafts and original paintings by a local artist. Held indoors and outdoors, children can decorate cookies, make cards, hear stories and play games.
WELCOME NEW EMPLOYEES LAUREN ANASTASIO AND ALAIN LAFOREST
Lauren joins us as our new full time circulation clerk and comes to us from the American Booksellers Association. She previously worked in bookstores and for community organizations. Alain is our new Youth Services Librarian and he will be working with children and teens. He is finishing his Masters in Library Science at Pratt Institute and has been working part time at the White Plains Public Library children's room. Alain is an alumnus of the Children's Shakespeare Theatre and is excited to be back in the Palisades community.
LAURIE FERGUSON, CANDIDATE FOR LIBRARY TRUSTEE
Laurie Ferguson is a Palisades person and has been for over forty years. She moved here to be the pastor of the Palisades church in 1982, and after 15 years left that work to pursue a doctorate in clinical psychology. However she could not imagine leaving Palisades - and bought a home where she still lives on Closter Road, close enough to walk to the library several times a week. She raised three children here, and the library was a part of regular family life. She currently practices as a psychologist and executive coach. Laurie looks forward to being part of the library board and working to support its meaningful presence in the community. The election for library trustee is at the library on Wednesday, December 14 from 11:00 am – 7:00 pm, followed by the annual meeting of the Palisades Free Library Board of Trustees.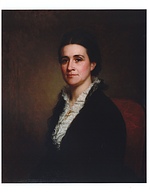 LYDIA LAWRENCE PORTRAIT RESTORED
In 1891 Lydia Lawrence (1830-1912) donated 663 books, a building and funds for a caretaker to start a library in Palisades. Her portrait hangs above the library fireplace and was recently restored thanks to the generous underwriting of Louis Solerno. Yost Conservation in Oxford, CT was hired to fill and inpaint minor areas of old damage and address a tear that had been poorly repaired years ago. The painting is believed to be by George Augustus Baker, Jr. (1821-1880) and has been a part of the library collection for over 80 years.