Palisades Free Library News: May 2016
May 2016 - Issue 233
PALISADES FREE LIBRARY CELEBRATES 125 YEARS!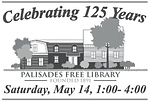 Please join neighbors and friends of the Palisades Free Library for a festive afternoon Saturday, May 14th (rain date May 15) to celebrate our 125th anniversary.
From 1 - 4 pm there will be outdoor performances by local musicians (music!) including Samba New York, Sam Seeger, Katie Elevitch and Fred Little as well as the performer Bubble Dad (BIG bubbles!), with David Seeger as Master of Ceremonies. Bring the little ones for children's games, face painting (dragons! kitty cats!) and homemade baked goods (legendary brownies!). Other food options include NoCo Catering, LaTalaye Catering and Rose's Soft Serve.
Take a tour of the library with our young costumed historians (see the extinct Prairie Chicken!). In a nod to the plant swaps held at the library in the last century, plants for sale from Bumps & Co. We will also have a used book (is that a Gutenberg bible?) and vinyl record sale (Elvis!). If you have visited the library lately you know we are not just about the past, so check out the coding demonstration by the Palisades Free Library Computer Science Club in the teen area. We will have a time capsule burial and display items that were in the community children's 1976 time capsule and lots more.
Come one come all, there won't be another event like this for 125 years.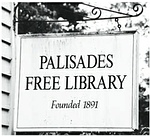 Adult Programs

Open Mah Jongg Play
The Mah Jongg group meets every Tuesday. Advanced beginners and experienced players welcome for casual, non-competitive play. No instruction is provided and we recommend that you bring your own National Mah Jongg League card.
Tuesdays, 11:00 am – 1:00 pm
Wading Through Watercolors
with Jayne Conte. Sometimes people can feel out of their depth when exploring new creative outlets. "Wading through Watercolors" breaks down the basic techniques of watercolors in a relaxing environment with plenty of hands-on instruction.
Local artist Jayne Conte combines years of experience and a passion for art in her class, and helps even the most novice painter create true works of art. Each week the class will dive into a new painting - Jayne demonstrating while the class follows suit. Get your feet wet with "Wading through Watercolors!" Fee due at first session: $20.00
for all four classes. Supplies will be provided. Class limited to 10 participants.
Tuesdays, May 3, 10, 17, and 24 at 2:00 pm
Little Known Films:
Listen to Me Marlon
A special after hours showing, with light appetizers, of the film featured in this month's Little Known Films column. Joining us to introduce the film will be film director (Charlie Hoboken, Undertow), Palisades resident, and columnist Tom Mazziotti.
Saturday, June 4, 5:00 pm
Lost Towns of the Hudson Valley
From the turn of the twentieth century through the 1960s, many towns met their demise in the Hudson Valley. Some were demolished to make way for reservoirs and generating plants. Others were removed as government had other uses for the land. Barbara and Wes Gottlock revive the spirit of these bygone communities and celebrate a lost way of life.
Wednesday, June 15, 7:00 pm
Adult Summer Reading
This summer, adults can get in the game by participating in the library's 2016 Adult Summer Reading Book Bingo Challenge. To participate, stop by the reference desk starting July 1 to pick up a bingo card and a free book to help get you started. Exercise your mind by choosing books that you may not have previously considered to complete the bingo card. Turn in your bingo card by August 31 to be entered into the end of summer prize drawing.
Childrens' Programs
Toddler Story Time Join us every other Tuesday for stories and music. Children aged 3. Tuesdays, 10:00 am
Story Time
Join us every Tuesday for stories, discussions and a simple craft. Children aged 4.
Tuesdays, 10:30 am
Mothers' Day Cards and Crafts
Create a gift for your Mom or Grandma. Wrap it up and make a card to give on her special day. Ages 5 and up.
Wednesday, May 4, 4:30 pm
What Happens at the Sriracha Zoo
Can you imagine baby tigers being raised by a mother pig? Or piglets being brought up by a mother tiger? This all really happens at the Sriracha Zoo in Thailand. Come and hear about these amazing baby tigers and piglets. Then create an exciting craft about these unusual friendships. Children in grades K-3. Limited to 8 children.
Wednesday, May 11, 4:30 pm
Fathers' Day Cards and Crafts
Create a gift for your Dad or Grandpa. Wrap it up and make a card to give on his special day. Ages 5 and up.
Wednesday, June 15, 4:30 pm
Childrens' Summer Reading
Once again this year, the "Mighty Five" will present a kick-off show for our Summer Reading Programs. "Jester Jim" will perform on Thursday, June 30, at St. Catharine's School Auditorium, Blauvelt.
Throughout the summer, the Palisades Library will host a series of programs for readers of all ages. Our programming will begin on Tuesday, June 21 when registration will open. Come in and sign up, receive your reading log and accu-cut to display in our children's room.
During your busy summers, remember to schedule time to participate in our varied programs. This year we will have 2 Yoga sessions, a family field day, the Second Annual Tween/Teen Trivia Night, an animal program presented by Jan Berlin of Everything Animals Resource & Activity Center, a Cornell Cooperative Extension Program, and several craft programs.
Check us out this summer.
Unless otherwise noted, registration for all events is open in the library, by phone, or online.
Palisades Free Library
Member of the Ramapo Catskill Library System and ANSER Network
19 Closter Road, Palisades, NY 10964 • 845-359-0136, Fax 845-359-6124
www.palisadeslibrary.org

Hours: Monday - Thursday, 11:00 am - 9:00 pm,
Friday - Saturday, 11:00 am - 5:00 pm, Sunday, 1:00 - 5:00 pm
(closed summer Sundays starting June 19)
Next Meeting of the Board of Trustees:
Wednesday, June 8 at 7:30 pm at the library. Open to the public.
Holidays: Closed Mother's Day, May 8, Closed Memorial Day, May 30, Closed Independence Day, July 4, Closed Labor Day, September 5
Director: Maria Gagliardi • Board of Trustees: Helena Power, President • Marjorie Galen, Vice-President Christopher Keywork, Treasurer • Mary Ann Brueckner, Secretary • Jen Citrolo • Suzanna Frosch John Guzewich • Holly Seeger • Beverly Warwick